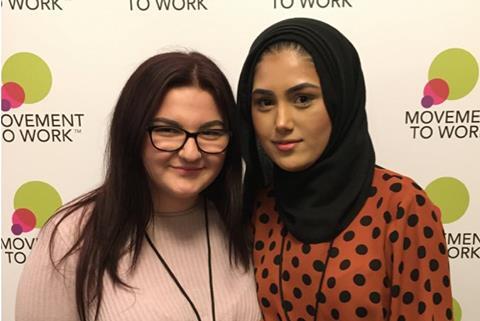 Working in partnership with Qube Learning, we offer traineeships as part of our pre-employment programme. Traineeships enable individuals to develop the relevant skills and experience to get into retail. By attending our traineeships, both Lauren Underwood and Rimsha Rizwan are now employed in Matalan stores.
As part of our membership of the Movement to Work initiative, Lauren and Rimsha attended the Movement to Work Youth Summit which took place at the House of Commons late last year. We are thrilled that Lauren and Rimsha have been named as ambassadors for the programme and will be attending the awards ceremony on 4 February.
Read on to find out more about our ambassadors.
Lauren Underwood
General Sales Assistant at Matalan Leeds Kirkstall
Lauren had attended college and completed the first year of a level 3 childcare course. However, Lauren realised that she did not want to finish the course and wanted to find work. Lauren struggled with job applications and found that nobody was getting back to her, which she thought was due to the lack of work experience on her CV. Lauren's sister had recently completed a traineeship with Qube Learning, so when Lauren saw a traineeship advertised, she applied.
"I really learnt and developed key employability skills that will help me continue my retail career. I could not have done this without the support I was given on my traineeship and the opportunity provided to me." Lauren
"Lauren was a great learner who demonstrated that if you work hard and commit to the traineeship, it can really help you get your foot on the career ladder. I am so proud of Lauren and all she has achieved, she is a great ambassador for traineeships." Catherine Ackrill, Pre-Employment Manager at Qube Learning
Rimsha Rizwan
General Sales Assistant at Matalan Bradford Mayo Avenue
Rimsha had been unemployed for over a year. Although she applied for many positions, she struggled to secure interviews. Of the interviews she attended, the feedback she received was based on her skills and experience.
Rimsha had low self-confidence and wanted to improve her Maths and English skills. She also wanted to experience working within the retail sector as this was an industry she thought she might enjoy but struggled with her self-confidence. However, within four weeks of the traineeship, Rimsha was offered a job with Matalan!
"Rimsha is a prime example of how a traineeship can give a young person the opportunity to 'shine'! On first meeting her, she lacked confidence in both her abilities and career potential and wasn't sure she would be any good working within retail – this had come from over a year of knockbacks. Each weekly visit saw her confidence and happiness increase, which was rewarding to see as a tutor. Rimsha grasped each learning opportunity and used the support from both the store and her traineeship to achieve all of her personal aims, which were set out at the start of the programme. She is an inspiration to others starting their traineeship programme within the store. Both myself and the store management team are very proud of her." Catherine Ackrill, Pre-Employment Manager at Qube Learning
"My experience was great! I had the chance to turn myself around. Qube Learning and the Retail Trust supported me a lot by helping me to gain a job out of the work experience I did. If it wasn't for them, I would not have been able to find a job. The programme gave me the confidence to be able to work and I am very happy about it."
For more information about our traineeships or other vocational programmes, please contact Aaron Hunt, Senior Vocational Relationship and Programmes Manager, at ahunt@retailtrust.org.uk