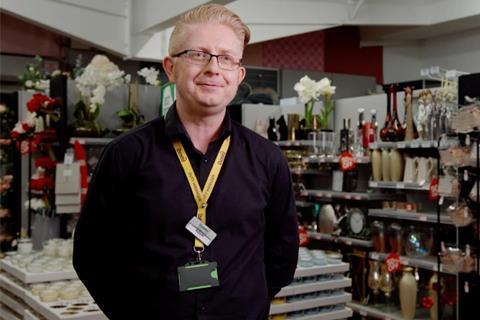 Adam has worked in retail for over 23 years in different roles for various companies including Pets at Home, Superdrug, Tesco, and Dunelm where has been working for the last six years.
Adam has always loved and been very passionate about all aspects of retail. In 2019 he received a letter from Dunelm, asking if him if he would be interested in applying for the Retail Leader Apprenticeship Degree. He was quite surprised by the letter and thought: "I'm 38, they've clearly made a mistake."
This opportunity struck a chord for Adam and he didn't hesitate to register his interest.
"I want to prove to myself and others that I can do it, and to make my kids proud. Hoping they realise that the only way to achieve their dreams is through hard work and education.
"I want to gain knowledge on aspects of retail I know little about while enhancing the knowledge of the things that I do.
"I want to learn things I've never had the chance to in the day-to-day running of stores. I want to understand behind the scenes of retail such as buying and merchandising, the changing retail strategies and best practice in implementing them, something which is so important in today's climate."
Before this opportunity came his way, Adam believed that having been in retail for so many years, the bar for him to progress had been set.
He saw this as an opportunity for him to gain new skills and knowledge that will have a huge impact on his career in retail.
"With the skills and knowledge I will gain from the Retail Leader Apprenticeship Degree, I genuinely feel that the bar will be broken and I will get the opportunity to progress and develop my career in ways, I could only have dreamed possible before.
"It's this reason why the apprenticeship degree is such a fantastic opportunity, not only to those who are just starting their career in retail but to those, like me, who were beginning to think that opportunities like this had passed them by."
For more information about how the Retail Leader Apprenticeship Degree can work for your business, please contact Amy Prendergast at aprendergast@retailtrust.org.uk