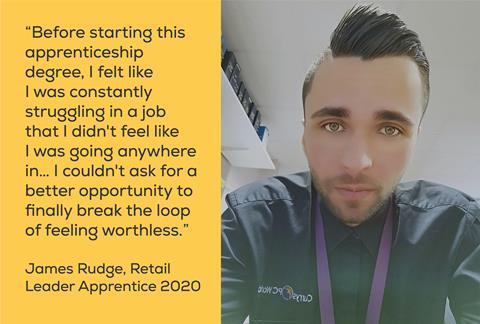 The first cohort from Dixons Carphone have started studying the new Retail Leader Apprenticeship Degree. We caught up with the team to see how the retail management apprentices are feeling three months into the level 6 programme.
IMAGE AMEET PATEL
"My real reason for loving the Level 6 Retail Leader Apprenticeship Degree is because it enables me not only to gain a HND in Professional Practice in Management, as well as a chartered qualification, I also get to work with the UK's largest electrical retailer and have direct impact on its people and performance. This is amazing."

ROWAN CHAPLIN
"I have chosen this degree because it has helped open up loads of opportunities for me in my career. I have learned so much in regards to the business and how the business works. I am also learning so much more about myself and what I am capable of. I am enhancing so many skills that I never even knew I had, whether that be management skills, or general people management. I feel extremely lucky to be in the position I am in and I would recommend it to anyone who has an interest in retail management!"

JAMES RUDGE
"Before starting this apprenticeship degree, I felt like I was constantly struggling in a job that I didn't feel like I was going anywhere in. This apprenticeship has not only been beneficial to my career development but also my personal development too. When I first joined the company, I had no self-confidence, now I am able to lead teams into top three in the region. I couldn't ask for a better opportunity to finally break the loop of feeling worthless."

JAMES FULLER
"Currently I am a team leader in the vision department, having spent the last year as a sales colleague in major domestic appliances at Dixons Carphone. It's been very challenging at times, particularly with essays to complete at the same time as working full time, but has been enjoyable, energetic and a different change of pace each day.
"Being dyslexic I never thought I was good enough to go to university, but Dixons Carphone have been very supportive and have made it possible for me to hopefully attain my degree and chartered management status. The structure that the level 6 apprenticeship provides, in the form of videos and essays rather than final exams, helps me to complete the work to the best of my ability.
"By the end of this apprenticeship I hope to be able to be a manager that Dixons Carphone can be proud to have working in the company."

SIRAJ DAUD
"So far at Currys PC World and Dixons Carphone I have seen the different environments and customers that we encounter on a day-to-day basis. I have developed skills that will be useful in the future such as dealing with difficult situations and being able to delegate tasks effectively to colleagues. I have thoroughly enjoyed experiencing both sides to the company and learning the customer journey and being able to tailor our products to their needs. There is much more to learn, and I am looking forward to progressing through the apprenticeship and working my way up while developing myself at the same time. The apprenticeship degree has helped me identify areas which I need to work on to effectively be a good manager and learn valuable skills to use later in life."

NOOR MALIK
"I chose the Retail Leader Apprenticeship Degree as I thought it was the best accelerator for my career progression. Working for the company before the apprenticeship I realised that completing the course would give me the best chance possible to climb the ladder and become a future leader of the business within Dixon's Carphone."

HENRY BROWN
"I have chosen this Level 6 Retail Leader Apprenticeship Degree because I wanted to understand all parts of the industry and wanted to gain people management skills. It was important to me to study alongside the job experience, as I felt this would accelerate my career.
"My experience so far has been all positive and I have gained people management skills I didn't know I had! I would recommend the apprenticeship degree to anyone that wants to gain practical experience and study."
Click here for more information about the apprenticeship degree and how it could work for your organisation.