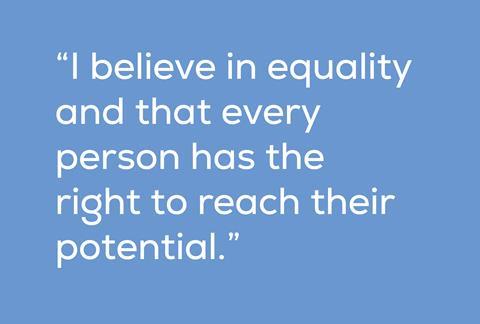 "I believe in equality and that every person has the right to reach their potential so they may have a successful future, enjoy their life fully and have the confidence to be who they truly are."
We caught up with Amy Prendergast who is our Director of Change, People and Learning. Amy joined the Trust six years ago to set up a pilot project to help young people not in employment or education get into work. She developed the vocational learning services department which helps employers recruit, progress and upskill their employees. The team has supported an incredible 5,000 retail employees over the last five years!
Amy has progressed through the organisation to director-level and she is also an ambassador for the Retail Week Be Inspired programme. Find out more about why Amy is passionate about giving everyone an opportunity to have a successful career and have the confidence to be who they truly are.
Please can you tell us about your background and current role?
I have over 10 years of experience working for not-for-profit organisations including Whizz-Kidz and the Prince's Youth Business International.
I have spent the past six years at the Retail Trust where I have grown and evolved a vocational learning services department. Through the recruitment, development and growth of a team to support our expansion we have developed national initiatives such as pre-employment schemes, retail apprenticeship standards, industry mentoring and more recently, a new end-point assessment service for retail.
I'm responsible for setting the people, learning and development strategy for the organisation. In my new role as Director of Change, People and Learning, a key focus of mine will be how the Retail Trust can foster a more inclusive and diverse working environment while promoting wellbeing in the workplace.
Why are you so passionate about helping people to get into retail and progress their careers?
I believe in equality and that every person has the right to reach their potential so they may have a successful future, enjoy their life fully and have the confidence to be who they truly are. Unfortunately, not everyone is given an opportunity and that's why I strongly believe that everyone is deserving of a chance.
Our pre-employment programme has supported over 3,000 individuals into retail employment, some of whom have been from the most vulnerable groups within society, which has ultimately changed their lives for the better. I have seen the direct positive impact such a programme can have for individuals and their families, and that is why I am so passionate about what I do.
Why did you agree to get involved with Retail Week Be Inspired?
I believe in creating a more inclusive and diverse workforce, and one where female professionals have the opportunities to thrive and develop their careers. There has never been more of a need to create a more balanced workforce. As a young female professional, I know how important it is to have access to both role models and mentors to support your career progression. There are still various challenges that women face throughout their careers and I am proud to be part of such a fantastic initiative in supporting the next generation of female leaders.
What has been your greatest achievement?
My greatest professional achievement has been earning an MBA with first class distinction. For someone that doesn't come from a 'business background' this was most definitely one of my biggest challenges to date. Not only that, I was studying while working full time which was not easy! However, through sheer determination, focus and discipline the hard work paid off and has allowed me to progress into my first director role.
What key lessons have you learnt?
Having a clear vision and taking consistent and persistent action to achieve it has helped me get to where I am today. I have had to learn not to take setbacks personally and recognise that if something doesn't work first time, it is not necessarily a reflection of my capability and character. Rather, it is a learning process and an opportunity for personal growth. Mistakes are valuable too so don't be too hard on yourself (which is something I still need to remind myself of!).
What inspires you to get up in the morning?
I am inspired by the possibility to make a difference but I also have the pleasure of working with such a fantastic team! All of whom share the same sense of purpose and wanting to help others to succeed.
What one piece of advice would you tell your younger self?
Be your true and authentic self, and don't sweat the small stuff!
If Amy has inspired you, click here for more information about our vocational learning programmes.