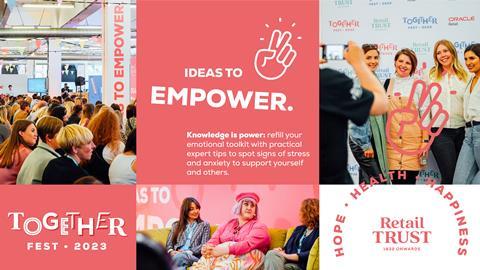 9.00 - 9.45 Some Voices choir
9.45 - 10.00 Welcome: Anna Whitehouse and Chris Brook-Carter
10.00 - 10.30 But how are you, really? Dr Alex George on building your mental fitness
Keynote interview: Dr Alex George
TV doctor Alex George gets honest about resilience, overcoming trauma and topping up your mental toolkit.
10.40 - 11.10 Generation overwhelmed: how to prevent burnout
Panel talk: Maria Lally, Jayne Morris, Lina Chan, Charlie Hoare
Expert advice from burnout coach Jayne Morris and author of Man Down, Charlie Hoare, on living a life less frazzled.
11.20 - 11.35 Sleeping soundly: secrets to a good night's rest
Speed masterclass: Dr Lindsay Browning
Dr Lindsay Browning, psychologist and sleep expert, shares her tips for sleeping well and waking up happier.
11.40 - 12.10 The customer isn't always right: tackling the intolerance epidemic together
Panel talk: Chris Brook-Carter, Jo Crumplin, Tallulah Belassie-Page, Cliff Lee
How to handle customer abuse while keeping your cool and protecting your wellbeing, by those who've been there.
12.20 - 12.50 Man talk: England footballer Stuart Pearce MBE gets honest about male mental health
Interview: Antonio Ferreira, Stuart Pearce MBE
Join the much-loved England icon in conversation with mental health campaigner Antonio Ferreira on why men need to keep talking.
13.30 - 13.50 Don't panic: how to stop anxiety being the boss of you
Dr Sophie Mort
Straight talking tips to take back control over worry and anxiousness.
13.55 - 14.10 Menopause and you: six things everyone should know
Michelle Griffith-Robinson OLY
From breaking taboos to supporting colleagues, here's why menopause matters.
14.20 - 14.50 Decision overload: healthy choices and how to make them
Panel talk: Daniel Craig, Rhiannon Lambert, Peter Komolafe, James Davies
Make smarter choices, with a panel of experts including nutritionist Rhiannon Lambert, financial coach Peter Komolafe and James Davies, the recovery specialist who's worked with everyone from David Beckham to Kylie.
15.00 - 15.30 Telling it like it is: comedian and TV star Katherine Ryan on seeing the funny side
Interview: Katherine Ryan, Anna Whitehouse
Comedian, actress and TV star Katherine Ryan gets frank about wellbeing, the mental load and working parenthood, with host Anna Whitehouse.