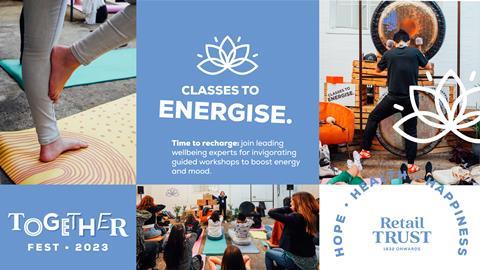 10.40 - 11.10 | 11.20 - 11.50 Laughter yoga workshop         
An introduction to the playful art of laughter therapy for improved mood and mindset, with Lotte Mikkelsen.
Everlast Gyms workshops 
12.05 - 12.35 Low impact HIIT workout
12.45 - 13.15 Fundamentals of boxing
Become a champion by lunging into one of our fitness workshops. Our posture-focused, desk mobility HIIT style class is designed to strengthen your muscles, help you stand taller, and improve your overall physical health. Shortly after, come out fighting and learn the fundamentals of boxing. Developed to help you: stand, move, punch, and defend yourself just like a boxer.
13.30 - 14.00 | 14.10 - 14.40 Mantra chanting            
Find your vibe with chanting pioneer Nikki Slade for an introductory workshop on mantra chanting, a fast, effective and uplifting way to release mental, emotional and physical stress, and leave you feeling empowered and revitalised.
Cookalong live: no more boring lunches           
Join four big-name foodies for a masterclass in healthy, budget-friendly lunches.
10.45 - 11.30 BOSH! Fuss-free flatbreads
The world's biggest plant-based chefs, Henry and Ian (AKA BOSH!) show us how to whip up Lebanese-style flatbreads using just a handful of store cupboard ingredients.
11.45 - 12.30 Budget-friendly packed lunches
Nutritionist Neil Bridgeman gives us a speed-demo on how to create a simple, quick and affordable alternative to sandwiches.
12.45 - 13.30 Rhitrition: fuel for thought
Leading nutritionist Rhiannon Lambert whips up some vegan courgette and sweetcorn fritters to boost mind and body.