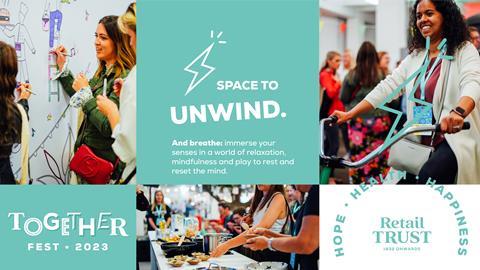 Watercolour workshop with Hobbycraft
Get creative and fall in love with watercolour. Whether you're looking to brush up on your skills or you're completely new to watercolour, this is a great way to learn simple techniques.
10.30 - 11.10 Session one
12.20 - 13.00 Session two
14.20 - 15.00 Session three
Healing sound bath
Experience the powerful revitalising effects of sound bath meditation to reset your mind and body.
10.40 - 11.10 Session one
11.20 - 11.50 Session two
12.10 - 12.40 Session three
Brush lettering workshop with Hobbycraft
Discover how easy it is to get started in brush lettering! It's the perfect way to personalise every project, so learning basic brush lettering techniques is sure to take your creative know-how to a new level.
11.25 - 12.05 Session one
13.25 - 14.05 Session two
12.55 - 13.25 Beginner's guided meditation
Join Danielle North for a meditative walk through spring cherry blossom without leaving your mat.
Breathing workshop
Time to exhale with a mindful breathing session to relax and rejuvenate.
13.40 - 14.10 Session one
14.20 - 14.50 Session two
All day - Room to recharge
The ultimate staffroom experience. A ground-breaking multisensory activation that shows how the power of nature can help us relax, recharge and calm our busy minds.
All day - Fun all day long!
Create your own merch:
Try your hand at screen-printing to make your very own Together Fest merchandise.
Wellbeing lucky dip:
Pick a card any card, for your very own wellbeing challenge. Time to take a chance!
Map your wellbeing:
Join us in uncovering what shapes happiness by mapping out what makes you hopeful, stressed, happy and worried.
VR meditation:
Experience SpiritVR a 15-minute mindful virtual reality journey to bring a sense of wellbeing.
Massages:
Time to relax with a 15-minute head, neck and shoulder massage.
Get your insta on:
Grab your workmates and post a pic on social: #TogetherFest
Find your make-up match:
Revolution Beauty are here to help you discover your perfect shade
Mindful colouring:
Relax, focus and enjoy the simple act of colouring to help bring a sense of calm to your day.
Discover a better you:
Take our expert-led happiness test for your very own personalised action plan to boost workplace happiness.
Doughnut wall:
Try the healthiest doughnuts in town from Urban Legend - delicious, indulgent and from 140 to 180 calories.
Financial wellbeing garden:
Join Wagestream to plant some moneymaker tomatoes to take home, and chat to a financial coach about money worries.