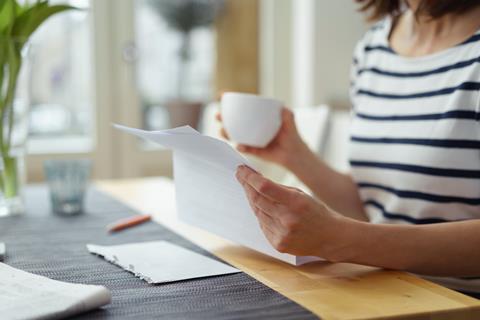 The Retail Trust will aim to approve successful applications (where all supporting documentation has been submitted) within a maximum of 14 business days.
We aim to provide payments and supply of appliances or devices within 21 days of the initial application date.
Remember all supporting documentation must be uploaded within ten days of the original application or the application will automatically be rejected.
If your application is unsuccessful, you will normally be advised within seven business days of your initial application. Due to the volume of applications that we receive, we reserve the right to decline applications at any time after submission.
Applications received where the supporting documentation is missing or incomplete will be delayed, we expect to advise of any missing documentation within seven days.
We aim to process all applications in the timescales detailed above. Please do not contact us to check the status of your application. If your case worker needs additional information to process your application they will contact you to request this information.
If your application is successful, your case worker will notify you by email and will then arrange to make the financial aid payment, supply the device or appliance required. Please note that cash payments cannot be made direct to applicants. All payments will be made directly to the creditor and not yourself.
If in the unlikely event you have uploaded all the required documentation to support your application and your application is still showing as status 'Application received' and you have not received an update from the Retail Trust after 14 business days, please contact the helpline on 0808 801 0808 to find out more about your application.
You can view the progress of your submitted application at any time, by using your email address and password to log in to this site and accessing the 'My account' section.
Please do not contact the Retail Trust helpline to track your application, our advisors only have access to the same information shown in the 'My account' section in the website and do not have any additional information regarding your application status.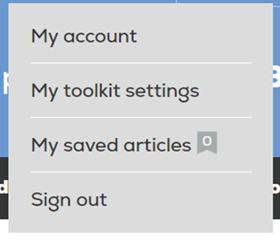 Select 'My financial aid applications'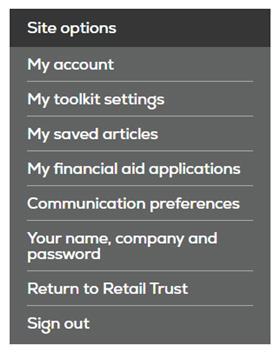 Once submitted the status of your application will show as one of the following:
Status
Definition

Awaiting supporting documents

Application received, required supporting documentation has not been uploaded, please upload the required documents to complete your application.

Application received

Application successfully received, please do not contact the Retail Trust regarding your application.

Once the status changes to "under review" your application will be reviewed by a case worker and additional information requested if required.

Under review

Application is now being reviewed and will be allocated to a case worker. Please do not contact the Retail Trust regarding your application.

Please track the progress of your application using the "My applications" option. Please be aware that application review may take up to 14 days.

Application approved

Application successful and payment, devices or appliances are being arranged.Your case worker will be in contact via email.

Paid

Application successful and payment, devices or appliances being arranged. Your case worker will be in contact.

Additional evidence required

Further information required to enable the Retail Trust to review your application. Your allocated case worker will be in contact to advise on what is required.

Case cancelled

Displayed when case is cancelled by the Retail Trust case worker due to receipt of a duplicate application.

Rejected

Application declined and closed.
Remember, any applications received which are missing supporting documentation will be delayed.
As part of the application process for financial aid, a member of the Retail Trust team may be required to contact you directly to discuss details relating to your request. This is to ensure the safety and wellbeing of applicants.