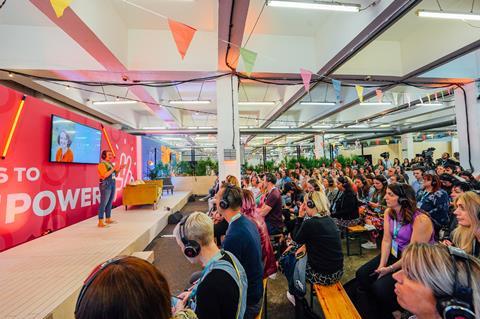 Staff from 100 of the UK's biggest retailers have taken part in the first wellbeing festival for retail workers run by industry charity the Retail Trust.
Together Fest brought together nearly 600 people working for retailers including ASOS, H&M, Iceland, New Look and Superdrug for a variety of talks, classes and activities designed to unite and inspire people in the retail industry and help them live happier and healthier lives.
Taking place at London's famous Truman Brewery during Mental Health Awareness Week, the inspiring programme covered mental health, physical wellbeing and financial wellness, with talks on everything from handling anxiety and preventing burnout to managing money worries and getting a good night's sleep. There were also classes on fitness, breathing and yoga, cookery and craft workshops, and live entertainment spanning music and stand-up comedy.
Its all-star line-up of celebrities and wellness champions included authors, therapists, cookery experts, fitness instructors and entertainers, such as actress, recording artist and songwriter Nicola Roberts who spoke about resilience and reaching out for help.
She was joined on the event's main stage by Capital FM host and TV presenter Roman Kemp who also performed a live DJ set, and podcaster, entrepreneur and former Made in Chelsea star Jamie Laing who opened up about learning to live with anxiety and overcoming panic attacks.
The event was hosted by presenter, author and flexible working campaigner Anna Whitehouse AKA Mother Pukka and Together Fest's line-up of more than 25 wellbeing experts also included psychotherapist and author Anxiety Josh, AKA Joshua Fletcher, Guru Wellbeing founder Richie Moore, personal trainer and founder of Cell Workout LJ Flanders, and cook and food writer Georgina Hayden.
The event was supported by Oracle Retail, adidas, B&Q, Fiorucci, Hobbycraft, Karcher, Revolution Beauty, Screwfix, SSP, TK Maxx & Homesense.
Among those to attend was Peter Harris, learning and development manager at The Works. He said:
"I had a fantastic day at Together Fest, and I think Retail Trust did an amazing job bringing together so many diverse people for such an inspiring event. It felt like it was exactly what we needed to reset and move on, after an intense few years for everyone who works in retail. I found it useful, informative and great fun, with loads of ideas that we can take away and use for our colleagues"
Chris Brook-Carter, chief executive of the Retail Trust, said:
"We ran this event as an enormous thank you for the extraordinary contribution that everyone has put into retail over the last two years and we couldn't be prouder of the brilliant response from the hundreds of people who attended and told us that they got so much out of the day.

"Together Fest represented everything that the Retail Trust has always stood for by equipping people with the right tools to improve their wellbeing and by instilling a real sense of pride in working for the retail industry, and we hope that this has helped us to forge new connections and raise much wider awareness of the support we offer.

"The Retail Trust helped 200,000 people last year but there are millions of people in the UK who work in retail, many of whom continue to face ongoing uncertainty, stress and risk of burnout and still don't know about the invaluable financial aid and mental health services that we provide. We desperately need more and more people, leaders and businesses to get behind the Retail Trust so that we can have a bigger impact in how retailers look after their people."