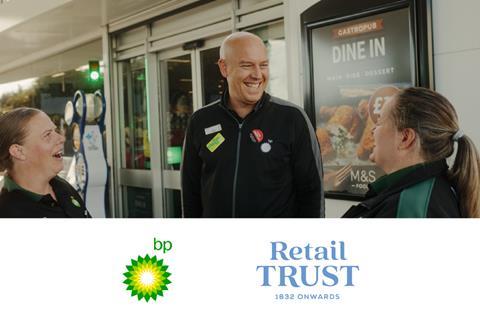 17 July 2023
bp is the first energy company to partner with the Retail Trust, the retail industry charity whose cause is to create hope, health and happiness for retail workers.
As Retail Trust partners, bp's 6,700 colleagues working at company owned retail sites in the UK, and their families, will be able to access a range of personalised wellbeing resources, including a virtual GP, counselling services and support.
Sonya Adams, VP mobility and convenience retail UK at bp, said: "Day after day colleagues across our nationwide network of convenient roadside locations are helping us to deliver strong, compelling offers to meet the evolving mobility and convenience needs of our customers.
"We want to raise the number of touchpoints customers have with bp to more than 15 million per day globally and, in order to do this, we know we must continue to invest in and take care of our colleagues. As Retail Trust partners, we will provide our teams with access to tools that boost their health and wellbeing, as well as seek to support the valuable work the Trust is doing across the UK to support retail workers."
Since 2019 Tracey Clements, bp SVP mobility and convenience Europe has been one of over 40 senior leaders taking part in the Retail Trust ambassador programme – championing health in retail by raising awareness and promoting crucial fundraising initiatives.
Over 200 other major British retailers work with the Retail Trust to help improve the mental health of the retail workforce amidst falling morale across the industry. A survey of 1,500 retail staff for the Retail Trust's health of retail report in June found 80% are experiencing declining mental health due to issues such as concerns around their finances and abuse from customers.
More than eight out of ten retail managers said they now needed more mental health training to support their teams' wellbeing.
The Retail Trust will also give bp access to its new 'better you' happiness assessment which provides retailers with tailored data, insights and plans to manage wellbeing across their business, and staff with a personalised programme of clinically-advised support, and it will provide accredited training to over 300 bp store managers so they can support their teams' wellbeing.
Chris Brook-Carter, chief executive of the Retail Trust, said: "We're partnering with bp to give its people some of the vital support, tools and training they need to boost their wellbeing and look after one another.
"Organisations of all shapes and sizes work with the Retail Trust in this way but we'd encourage even more to join us as retail workers continue to face huge uncertainty around everything from the rising levels of abuse in-store."