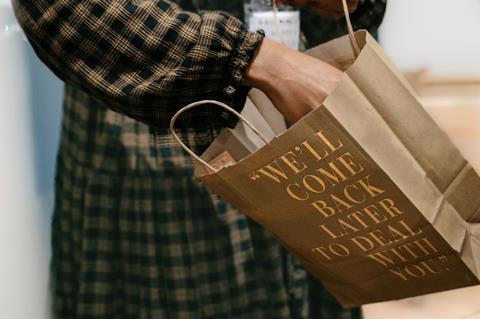 8 November 2022
One in three retail workers are now shouted at, spat on, threatened or hit every week

More than two thirds say verbal and physical assaults are worsening as cost-of-living crisis takes hold

But one in four retail workers are suffering in silence by not reporting attacks

Separate YouGov poll also reveals extent to which shoppers are taking out frustration with rising prices, empty shelves and staff shortages on workers

The charity Retail Trust launches new campaign to protect the wellbeing of the UK's three million retail workers and end the intolerance epidemic, supported by Theo Paphitis, the British Retail Consortium, and Usdaw
One in three shopworkers are being subjected to weekly abuse from shoppers stressed about rising prices, empty shelves and staff shortages, according to new research by the Retail Trust, the charity for retail workers.
The Retail Trust, which runs a free helpline for retail workers and supports more than 200 British retailers to improve the mental health of their staff, has launched the Let's Respect Retail campaign to protect the wellbeing of the UK's three million retail workers and end the intolerance epidemic, ahead of the busiest shopping season of the year.
Its survey of more than 1,000 retail workers also found*:
More than two thirds think verbal and physical attacks from customers have got worse in the last two years as the cost-of-living crisis takes hold across the country.
90% said they had faced abuse at work, with more than eight in ten (84%) verbally assaulted and nearly a third (31%) threatened with violence.
More than a quarter do not bother to report difficult incidents to their employer or manager. Of these, 29% didn't think they would receive any help, thought they might get into trouble (26%) or didn't know who to turn to (20%).
And as the abuse against staff grows, more than two thirds (68%) said they were stressed or anxious about going into work and nearly half (41%) had considered quitting their jobs.
Meanwhile a YouGov poll of 2,000 UK adults commissioned by the Retail Trust** found that:
People blame most of their frustration whilst shopping on not enough staff or checkouts (for 63% of respondents), rising prices (62%) and items being out of stock (55%).
Nearly half of people (47%) admit to getting annoyed with a shopworker, delivery driver or somebody working in customer services in the last year. Of these, 19% said they raised their voice or lost their temper.
"It's like being a human punch bag"
"The only way to describe my job is that it's like being a human punch bag, every single day," reveals one person working for an electrical goods' store. "It's not just the occasional rude customer, there's this widespread lack of understanding from the public, who expect more than ever and insult us or become aggressive if they have to queue or an item is unavailable. It is relentless."
"We'll deal with you outside later"
"Getting abuse has become part of my job," explains Jane, a 51-year-old supermarket checkout supervisor from Fintshire, Wales. "On many occasions I've had things thrown at me, been called names like 'useless b**ch, and been threatened. I once refused to serve an energy drink to a young person and a group of them told me they would wait outside for me after work. We're just trying to earn a living but it's made me feel anxious about going to work."
"My family worries about my safety"
Others told the Retail Trust they'd had a firework hurled at them and abuse spray-painted onto their car and somebody working for a supermarket chain said: "Recently a couple of women came in to the store who were clearly shoplifting. They began to throw stock at me, punched one of my colleagues and on the way out one of the women lunged at me and dug her nails into my head. That night I had to go home and explain to my two young girls why I had a massive cut on my head. It really does weigh on your mental health, and my family worries about my safety. We need to send out a loud and clear message that it is not ok to abuse frontline shopworkers."
"Abuse should never be seen as part of the job."
"Being verbally or physically attacked should never be part of anyone's job but we're speaking to thousands of retail workers who face this kind of abuse on an all-too regular basis, to the point it's almost becoming normalised," said Chris Brook Carter, chief executive of the Retail Trust.
"We're hearing daily from retail workers who are being shouted at, spat on, threatened and hit at work. One shopworker was told by a customer that they hoped they got cancer and died. This is having a devastating and long-lasting impact on real people's lives. Many are extremely anxious about going into work and having to take time off or even quitting.
"We've launched the Let's Respect Retail campaign to end this intolerance epidemic and make our shops safer. Our message at the Retail Trust is clear. Abuse is never part of anyone's job and if you're a retail worker encountering abuse, threats or violence, please do report this to your manager and call the Retail Trust's free helpline if you need any support dealing with your experiences."
Theo Paphitis, Chairman, Boux Avenue, Ryman, Robert Dyas and London Graphic Centre, added: "Retail colleagues are some of the most passionate and dedicated people out there, ensuring our customers get what they need, as well as being an integral part of our communities. There are many pressures on people at the moment, but there is no excuse for taking frustration out on our retail colleagues, who should be treated with kindness and respect in their workplace, just like anyone else!"
Helen Dickinson, Chief Executive of the British Retail Consortium said: "No one should go to work fearing for their safety, yet our most recent crime survey showed that there were a shocking 450 incidents of violence and abuse against our retail colleagues every single day. People in retail are there to look after customers, help them find what they need, keep shelves stocked and deliver goods – being threatened or assaulted must not be part of the job. We remind customers to shop kind and be respectful and considerate to retail workers and fellow customers."
Paddy Lillis, Usdaw General Secretary (the Union of Shop, Distributive and Allied Workers), said: "We very much welcome the Retail Trust's 'Let's Respect Retail' initiative that seeks to promote respect, kindness and gratitude. This campaign, as well as the strong evidence provided, backs up the work of our own Freedom From Fear campaign and highlights the significant issues faced by retail workers simply as a result of going to work. We are saying loud and clear that abuse is not a part of the job."
*Figures for the survey among UK retail workers are from the Retail Trust. Total response size was 1,020 people who have had previous contact with the Retail Trust. The survey took place online between 21 September and 16 October 2022 and due to the sensitive nature of the subject was carried out anonymously. Overall, we calculate a +/- 4% margin of error with 95% confidence compared to all Retail Trust website users.
**Figures for the survey among UK adults are from YouGov Plc. Total sample size was 2,081 adults. Fieldwork was undertaken between 29 and 30 September 2022. The survey was carried out online. The figures have been weighted and are representative of all UK adults (aged 18+).