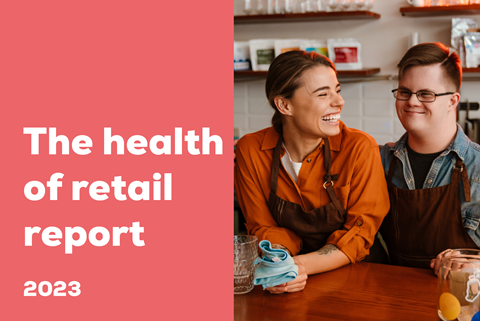 28 June 2023
New report from retail industry charity the Retail Trust reveals impact on mental health and financial stability of the UK's more than three million retail workers is worsening.

Retailers report rise in incidents of staff theft, suicidal workers and abusive customers.
Over half of retail workers (52%) say the rising cost-of-living is impacting their mental health, according to a new report by industry charity the Retail Trust revealing a rise in incidents of staff theft, suicidal employees and abusive customers.
More than 1,500 people who work in retail were surveyed for the Retail Trust's health of retail report which found that:
of the nine in 10 who say they are affected by the cost-of-living crisis, 21% are struggling to meet their monthly outgoings
36% say problems with their finances are worsening their already poor mental health
80% report experiencing deteriorating mental health overall.
Off the back of the findings, the Retail Trust has created a new happiness assessment called 'better you' to give retailers more data to better understand and support staff and help retail workers improve their wellbeing at work.
Rise in staff theft
The Retail Trust also asked a range of household name retailers what they are doing to help people through the cost-of-living crisis and found:
one third (33%) have issued pay rises that match or exceed rising inflation
half (50%) provide other forms of financial assistance, such as help to pay bills or providing advances on their salary and interest free loans
three quarters (75%) offer financial education or money management advice.
Alarmingly, one retailer reported an increase in theft by staff due to the financial strain, saying: "People are desperate. As a wellbeing team, we call them before and after their disciplinary. Everyone is saying 'this isn't me, I was desperate.'
"They're not talking to us before they get to that point, so we're trying to encourage people to have those difficult conversations upfront."
The wellbeing manager at a well-known electrical chain added that it felt impossible to keep up with rising costs: "The wages of our hourly-paid colleagues have increased by 21% over three years, but we can't do it at the same pace as inflation. The challenge is that it's never seen as enough."
Another people director at a leading fashion retailer said: "Despite things like the support we've provided, pay rises, additional funding – despite all the things we've offered, people are still struggling."
More suicidal retail workers
Half of retail managers said there had also been a rise in staff absences in the last year due to mental health issues.
One HR leader told the Retail Trust she had dealt with more suicidal staff in the past 12 months than at any other point in her entire career: "It's related to the financial landscape, loneliness, domestic abuse, housing and volatile relationships. There are more severely impacted people in the last couple of years."
A beauty retailer added: "We are seeing it in mental health absences. People who have been in the team for seven or eight years are suddenly being signed off."
'We've had someone held up at gunpoint'
While the rising cost of living was found to be the biggest contributing factor to the deterioration in retail workers' mental wellbeing, there was also a rise in the number of shop workers, delivery drivers and employers blaming increasing abuse from the public.
"There's been a shift in how customers feel they can talk to and treat people," said a fashion retailer. "We've had incident after incident, to the point that we now have a taskforce that meets weekly for strategies, ideas and information gathering to protect staff. We've never had so many instances of verbal, physical and sexual assault."
The HR director of another fashion retailer added: "We've had someone held up at gunpoint in store and gang members following each other into the changing rooms with a machete. It's society. It affects certain areas more than others, but it does appear to have got worse."
'We must listen'
Chris Brook-Carter, chief executive of the Retail Trust, said: "The retail industry is the UK's biggest employer outside of the public sector and one with a workforce whose wages are skewed to the lower end of the scale, making the cost-of-living crisis more acutely felt. Many retailers are taking steps to address this, such as by increasing wages, but there is a limit to what can be done given the tight margins of the industry and the rate at which inflation has been rising.
"Combined with other factors like an increase in abusive customers, this is all having a serious impact on the mental health of staff, with thousands continuing to face ongoing uncertainty, stress and risk of burnout without the support they need.
"We must work together to change this by raising awareness of where to get help, training managers to support their teams and giving people the tools to support themselves. Above all, we must listen. Employers who are prepared to ask the big questions and understand how people are really feeling in their organisation, and then act on this data, will be the ones who succeed in having an engaged, happy workforce."
The Retail Trust's new 'better you' assessment provides retailers with tailored data, insights and plans to manage wellbeing across their business whilst providing employees with a personalised programme of advice, tips and key actions designed by clinical specialists. It also gives employers access to comparative data across the retail industry and the wider business landscape to help them benchmark their progress.
Poppie Foakes, director of product at the Retail Trust, said: "People need to be given the right tools to address the toll that the rising cost-of-living and other stressors are having on their mental health, and employers need to better understand the wellbeing needs of their workforce so that they can respond in the best possible way.
"The retailers we work with and who are truly invested in their people already understand the power of data to make sure their wellbeing strategies are right for their businesses. We believe this provides the evidence-based actionable insight they need to support their people and to empower their colleagues to take charge of their own health and wellbeing."
The Retail Trust works with more than 200 retailers to help improve the hope, health and happiness of their people and has partnered with Foot Anstey, TwentyCi, Wagestream and WorkL to create its latest health of retail report.