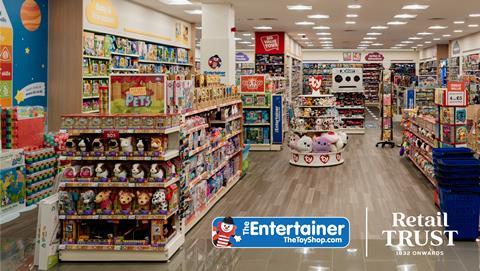 21 March 2023
The UK's largest independent toy retailer, The Entertainer, has joined forces with retail industry charity the Retail Trust to introduce a range of new measures to support its employees' health and wellbeing.
The partnership is set to give over 2,000 employees at The Entertainer, and their families, access to a range of personalised wellbeing resources from the Retail Trust.
This includes access to a virtual GP, digital support, financial aid, counselling and cognitive behavioural therapy, support following a critical incident, discounts and rewards, and the Retail Trust's 24-hour wellbeing helpline.
Vikki Congiu, store manager at The Entertainer Derby, said: "I recently used the Retail Trust's virtual GP and was very impressed with how easy the service is to use. The service supported my daughter with securing treatment quickly for inflamed skin around the eyes through an online video call with a GP, where she was diagnosed and received a prescription. It's a benefit of working at The Entertainer that I really appreciate and will definitely use again."
Lee Robinson, store manager at The Entertainer Scunthorpe, added: "A member of my team was trying to get an appointment with her GP and was informed that the soonest appointment was in two weeks' time so she decided to try the online GP through the Retail Trust site. Through this service, she was seen within an hour, given thorough advice and her prescription was cheaper than usual - she was very impressed and has advised other members of The Entertainer team to use the service as it is speedy, simple and stress-free."
Over 200 other major British retailers including Dunelm, River Island, Ann Summers and The Works already work with the Retail Trust to help improve the mental health of the retail workforce by supporting their staff and training their managers amidst falling morale across the industry.
A survey of 1,500 retail staff workers the Retail Trust's health of retail report last year found 83% had experienced declining mental health due to concerns around their finances, abuse from customers and poor mental health after working through the pandemic.
Nearly nine out of 10 retail managers also reported an increase in mental health problems among their teams and more than half said their team members have experienced issues that they felt ill-equipped to deal with.
Michelle Akerman Wilkes, HR & systems advisor at The Entertainer, said: "At The Entertainer, our people are our business so we're very excited to be supporting them with resources from the Retail Trust.
"As part of the project team, Retail Trust ensured the launch was as smooth as possible and it has been fantastic to work with a charity that is so enthusiastic about creating hope, health and happiness for everyone in retail."
Jon Savage, head of people at The Entertainer, said: "We're delighted to be partnering with Retail Trust to further support our employees and their mental health. Offering a host of all-important wellbeing support tools, we're confident that the services and information available from the Retail Trust partnership will benefit all of our employees.
"So far, the launch has been a great success and we hope the Retail Trust partnership will continue to provide added value to our employees."
Chris Brook-Carter, chief executive of the Retail Trust, added: "We're partnering with The Entertainer to give its people some of the vital support they need to take control of their wellbeing and look after one another.
"Retailers of all shapes and sizes work with the Retail Trust in this way but we'd encourage even more to join us as retail workers continue to face huge uncertainty around everything from levels of abuse in-store to the rising cost-of-living."
Find out more about partnering with us