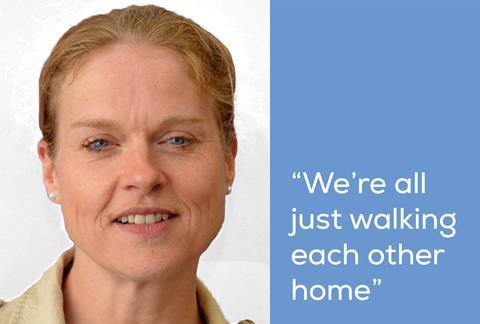 13 November 2021
"We're all just walking each other home." Ram Daas
It's World Kindness day on 13 November 2021 – a time for people around the world to reflect on how even the simplest of gestures can make a world of difference in the lives of others.
In my own mind, kindness is an action, not simply a word. Kindness is a conscious decision to encourage others to feel at home in the world – heard, seen, and cared for. It was for this reason that I was struck at the start of lockdown to hear the term 'social distancing' used both in my social circle and in the media. Physical distancing is understandable and required of course, but the term social distancing, to me at least, conjures up an image of a tear in the fabric of humanity.
At this time, especially without a clear sense of what the next year will bring, social connectedness, empathy, and kindness is all that we have. The good news is that human beings are biologically hardwired for kindness so we're more than halfway there. But like anything else in life, it needs to be practised to become habitual to the point where we don't even notice we're practicing it. Kindness is a generosity of spirit, and ultimately an unselfish acceptance that our own needs will sometimes take a backseat to the needs of people who may be struggling with challenges we cannot begin to imagine.
I was eighteen years old when I received some advice that has stood me in good stead for nearly thirtyfive years. As my father was dying, I asked him for any words of wisdom he could share. He thought for a moment and said: "Every morning, ask yourself 'how will I use today to leave this world a better place than I found it?' Always be kind, and if you can't, be kind anyway". My dad's words have especially echoed during COVID-19, reminding me that every one of us can choose kindness over all else, even in the darkest of times.
It is my most fervent wish that kindness – both random acts and kindness consciously practiced – remains on our day to day radar long after COVID-19. "We're all just walking each other home", and the beacon of kindness will light the way.
Since the first lockdown in March 2020, we have delivered over 11,000 counselling sessions and provided more than £1.2 million in financial aid to enable our vulnerable retail colleagues to pay their rent and utility bills to remain in their own homes.
With the end of furlough and more job losses looming, demand for our services is forecast to escalate more than the 87% rise we experienced since the pandemic.
As a gesture of kindness, we would be grateful for any support you could provide for our emergency appeal so we can continue to transform lives for good.
Or alternatively, take part in our fundraising challenge to provide much-needed support to our retail colleagues and their families during their time of need.
Walk, run, swim or cycle 4 miles, donate a minimum of £4 and nominate 4 people
£40 helps us process one financial aid application
£480 enables us to deliver six sessions of counselling to a colleague in need
About the author
Andrea Woodside | Training Lead, Retail Trust
Andrea began her career in wellbeing at work thirty years ago, and has worked with a wide range of industries to support employers to tackle mental health stigma in the workplace, create sustainable solutions for safeguarding their people's wellbeing, and design programmes which encourage recovery from emotional distress.
Andrea has provided wellbeing consultancy to the Retail Trust customers since 2011, and is well positioned to understand the unique needs and challenges of today's retailers. She served as a Trustee of Mind England and Wales for seven years, and regularly appears in the media to discuss ways in which all employers can create workplaces which promote best practice.