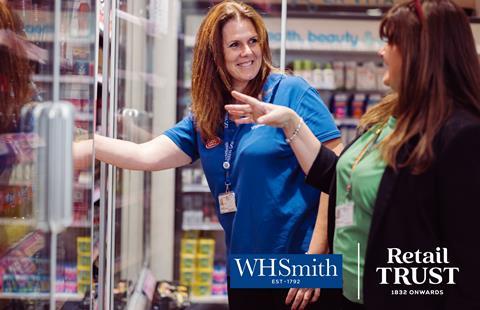 15 June 2023
WHSmith, the leading global travel retailer, is introducing new measures to support its employees' health and happiness after teaming up with retail industry charity the Retail Trust to help boost staff wellbeing.
The retailer's 12,000 plus colleagues and their families now have access to a range of personalised resources including the Retail Trust's wellbeing helpline, counselling and cognitive behavioural therapy, and mental health support for both themselves and their families. They will also be able to access financial aid, support following any critical incidents and exclusive discounts and rewards as part of the new partnership with the Retail Trust.
Helen Webb, chief people officer at WHSmith, said: "We're working hard to make sure that WHSmith is a business where our colleagues feel happy, healthy, safe and supported. We already have some great wellbeing initiatives in place, including mental health first aiders and line manager training, but our partnership with the Retail Trust has really helped us to step up our support for individuals.
"The breadth of services and the great resources that they provide can make a meaningful difference to our colleagues and their families. We've already started to see some take-up from our colleagues, and we're looking forward to working with the Retail Trust to make WHSmith an even better place to work."
WHSmith is the latest retailer to join forces with the Retail Trust to drive forward their wellbeing support for colleagues. Dunelm, River Island, Ann Summers and The Works are among more than 200 other major British businesses working with the Retail Trust to improve the wellbeing of the industry's workforce as research among 1,500 retail workers last year found 83% were experiencing declining mental health due to concerns around their finances, abuse from customers and poor mental health after working through the pandemic.
Chris Brook-Carter, chief executive of the Retail Trust, said: "We're really looking forward to working closely with WHSmith by providing its people with new support to help them strengthen their wellbeing and look after one another.
"Retail workers across the country continue to face huge uncertainty around everything from levels of abuse in-store to the rising cost-of-living so we're keen to work with more and more businesses in this way to make sure their staff get the support they need."