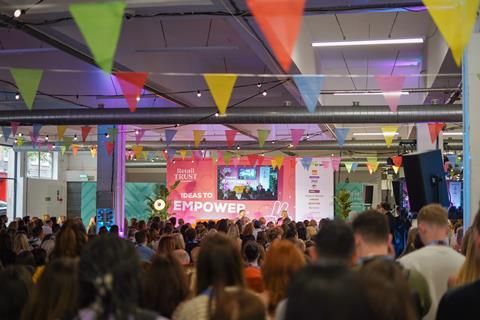 22 June 2023
Hundreds of people working for brands like Starbucks, Next and H&M swapped the shop floor for the retail industry's largest wellness festival last month, in a 'rallying cry' to improve the wellbeing of the retail industry's more than three million workers.
Together Fest, the annual wellbeing festival for retail workers, is run by industry charity the Retail Trust to address low morale across the sector, with research finding eight out of 10 are suffering declining mental health due to concerns around everything from all-time high levels of customer abuse to the rising cost-of-living.
A further third of people working for the UK's biggest retailers said they wanted to quit the retail industry altogether when questioned last year.
Bringing to life the Retail Trust's ethos of improving the hope, health and happiness of the UK's retail workforce, the event has been dubbed the 'retail Glastonbury' thanks to its all-star line-up of wellness champions and celebrities, included TV doctor Dr Alex George. The full day of inspiring talks, masterclasses and interactive sessions for 1,100 people from over 200 retail brands covered everything from preventing burnout and banishing imposter syndrome to laughter yoga and healthy cookery demos.
More than 200 retailers work with the Retail Trust to improve the hope, health and happiness of their staff, with River Island, Dunelm, Pets at Home and Waterstones among some of its other partners who brought their employees to Together Fest 2023.
Retail Trust chief executive Chris Brook-Carter said: "There are more than three million people working hard within UK retail but many of them are struggling with anxiety, financial difficulties, or are at risk of burnout. While I am inspired by the tremendous efforts being made by the organisations and individuals we work with to improve wellbeing, there are still too many people who can't get the help they need.
"We need a rallying cry back to Britain's retail bosses, to the industry in general and to the UK government that their health and their happiness really matters. It is intrinsic to the success of our society."
Dr Alex George, who is also the covernment's youth mental health ambassador, shared his own mental health journey and advice on self-care and resilience, told the crowd: "One of the biggest things I've realised through the pandemic and afterwards is that we all go through difficult times and sometimes the most difficult things happen when we least expect them. My passion around mental health is because I believe that by investing time in yourself you can build your mental fitness and you can deal with difficult times."
Theo Paphitis, chairman and owner of Ryman, Robert Dyas, Boux Avenue and London Graphic Centre said: "Together Fest is a day out of the office that personifies what the fantastic work of the Retail Trust is all about - good people, wellbeing, inspiration and taking a moment to breathe whilst understanding all the benefits of being in this fantastic retail sector and our part in it all."
Mellissa Bignell, operations directors at food service company SSP, said: "It was a great event and the team loved it. We invited some general managers as well as operations managers as we knew they would all benefit. I wanted to take the team, not only for them to learn how important it is to take care of their own wellbeing, but also for them to feel comfortable to ask if they need support."
John Henton, HR operations manager at The Entertainer, said: "It was fantastic to have been a part of Retail Trust's Together Fest. The day was filled with inspiring talks, masterclasses and a host of interactive sessions, giving us plenty of inspiration to take home and put into practise at The Entertainer HQ.
"It was also a great opportunity to come together with others in the industry to celebrate the benefits the Retail Trust offers employees at The Entertainer and beyond."
Staff from other brands including Harvey Nichols and Oxfam also attended this year's Together Fest event and it was also supported by B&Q, Dentons, Everlast Gyms, Fiorucci, Hobbycraft, Holland & Barrett, Kärcher, Newton Europe, Nutun, Oracle, Revolution Beauty, TwentyCi, TJX Europe, Usdaw and Wagestream.