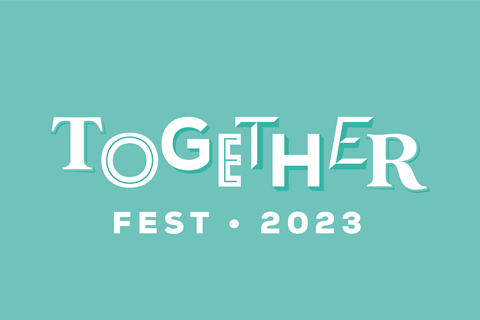 2 May 2023
Over 1,000 retail workers from 200 big retail brands like H&M, Starbucks and Next will attend the second wellbeing festival for retail workers when it returns to London on 25 May

Together Fest's all-star line-up of wellness champions and celebrities include comedian Katherine Ryan, TV doctor Dr Alex George, football icon Stuart Pearce, and influencer Anna Whitehouse aka Mother Pukka
Industry charity Retail Trust is hosting a second Together Fest – the retail industry's biggest wellness festival for retail workers – at London's Truman Brewery on 25 May.
The event, which was launched by the Retail Trust last year to unite retail colleagues for a brilliantly restorative day out, will double in size and capacity for 2023 to accommodate 1,200 people from over 200 retailers, including H&M, Starbucks and Next.
Together Fest aims to bring to life the Retail Trust's ethos of improving the hope, health and happiness of the UK's three million workers with a full day of inspiring talks, masterclasses and interactive sessions featuring an all-star line-up of wellness champions and celebrities, including comedian Katherine Ryan, TV doctor Dr Alex George and legendary England footballer Stuart Pearce.
There will be talks on topics such as preventing burnout, making healthier lifestyle decisions and raising awareness of domestic abuse, masterclasses where attendees can learn how to improve their sleep, banish imposter syndrome and tackle life's 'tiny traumas', and workshops and performances including a live poetry recital by mental health activist Charly Cox, laughter yoga, and healthy cookery demos.
Presenter, author and flexible working campaigner Anna Whitehouse aka Mother Pukka will host the event and Together Fest's long list of wellbeing experts also include Burnout coach Jayne Morris, nutritionist Rhiannon Lambert, best-selling self-help author Jen Sincero, foodie pioneers Bosh! and sleep expert Dr Lindsay Browning.
Dr Alex George, who is the Government's Youth Mental Health Ambassador, will take part in a keynote interview at the event. He said: "I can't wait to take part in Together Fest. The retail industry employs so many young people, so I'm really looking forward to having a very honest and open chat about some of the things we can all do to overcome personal challenges, build resilience, and future-proof our mental health for years to come."
Chris Brook-Carter, chief executive of the Retail Trust said: "Together Fest represents everything that the Retail Trust has always stood for, both by equipping people with the essential tools to improve their wellbeing and by fostering a real sense of pride in working for the retail industry.
"We've built on the success of last year's event and all the amazing feedback we received from the hundreds of retail workers who attended to make this year's Together Fest even bigger and better."
Research carried out by the Retail Trust last year found that a third of people working for the UK's biggest retailers wanted to quit the industry, while eight out of 10 retail staff had experienced declining mental health due to financial concerns, abuse from customers and post-pandemic fatigue.
Retailers from across the sector work with the Retail Trust to improve the hope, health and happiness of their staff and Domino's, River Island, Dunelm, Pets at Home and Waterstones (who will also host a pop-up bookstore at the event), are some of its other partners bringing their employees to Together Fest 2023.
Staff from other brands Harvey Nichols, Oxfam, and Holland and Barrett will also attend and Together Fest event is also being supported by B&Q, Dentons, Everlast Gyms, Hobbycraft, Kärcher, Newtown Europe, Revolution Beauty, TwentyCi, Usdaw and Wagestream.