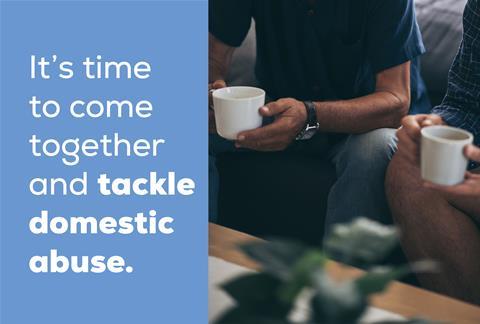 Dunelm and the retail industry charity Retail Trust are calling on retail employers to join forces in tackling a shocking rise in domestic abuse.
Together they have partnered with the Domestic Abuse Alliance to launch the retail industry against domestic abuse (RIADA) campaign which will raise awareness of how the retail sector and other businesses can better support employees facing domestic abuse, as calls for help rapidly increase.
The police and domestic abuse helplines have reported soaring rates of calls throughout the pandemic* and the Retail Trust is now providing more counselling services for retail workers experiencing domestic abuse than ever before. Statistics from the World Health Organization show that a quarter of women and one in six men will be affected by domestic abuse in their lives.
And with Euro 2020 underway, research by Lancaster University during three World Cup tournaments found domestic cases reported to police grew by 38% on the days when England lost a football match, and 26% when the team won or drew.
Retailers can sign up for the campaign and download supporting resources including template policies and guidance for managers and employees by going to the Retail Trust's website. It urges employers to take three key measures:
Create a domestic abuse policy that will raise awareness among colleagues and make it easier for employees to speak out.
Educate managers to recognise the signs of abuse and understand how to approach colleague and offer practical support.
Join the Employers' Initiative on Domestic Abuse (EIDA) which provides free reports and resources to aid employers.
Retail workers can also access counselling, financial aid and referrals to the Domestic Abuse Alliance for specialist legal advice by contacting the Retail Trust's wellbeing helpline.
Chris Brook-Carter, chief executive of the Retail Trust, says: "By working together as a collective voice, retail has an unrivalled ability to build hope, health and happiness across the sector and the communities we work in and real power to make a change, both in and outside of the workplace.
"That is why we are now urging businesses to join us, Dunelm and the Domestic Abuse Alliance as we launch the retail industry against domestic abuse campaign to raise awareness of domestic abuse and the actions employers can take to help colleagues when they most need it.
"From displaying helpline numbers in your staffroom and making sure everyone understands the signs of abuse to arranging an employee's transfer to another shop branch, we in the industry can all do something to help tackle this terrible issue. And by signing up for this campaign, retailers can download a range of resources, including template domestic abuse policies and guides for managers and employees that outline the key signs of abuse and the most appropriate ways to offer help."
Josie Dickinson, inclusion, diversity and wellbeing senior manager at Dunelm, says: "The home should be a place where you feel comfortable and safe, but we know this isn't always the case. We've worked alongside the Retail Trust to create a manager's guide and policy as a starting point, and are going to be training all our managers on domestic abuse awareness and signposting, too.
"As a member of RIADA, we feel a real sense of responsibility to educate and support our colleagues."
Razi Hassan, director of communication and partnership at the Domestic Abuse Alliance, says: "Only five per cent of companies have specific domestic abuse policies or guidelines in place, but all will have some staff who are affected by it. When employers open up the conversation around domestic abuse, it can help break down barriers and encourage people to seek help. RIADA is about retailers coming together and making a joint commitment to protect victims of domestic abuse.
"Retailers can play a crucial role in helping to tackle domestic abuse, which is why we've also established a referral pathway with the Retail Trust, offering access to immediate legal support and protection."
The campaign is also being backed by Domestic Abuse Alliance ambassador Lorraine Stanley, best known for her role as Karen Taylor in Eastenders. Karen's eldest daughter Chantelle Atkins (Jessica Plummer) was killed by her abusive partner in a harrowing domestic abuse storyline in September 2020.
Lorraine says: "When I was involved in the storyline last year, we worked closely with real people who had been affected by domestic abuse to ensure we portrayed an accurate picture of what life can be like behind closed doors. We're actors and we're trained to switch off when filming stops. But for those experiencing abuse, there's no switching off from it. They're living with it 24/7, often with no means of escape.
"Businesses and employers can play a vital role in helping to tackle domestic abuse and protect their workforce, before it's too late."