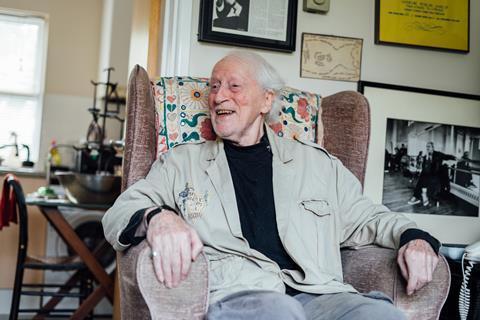 Gordon has been a resident at our Marshall Estate in London for seven years.
Equally passionate about music and textiles, despite winning a junior scholarship to the Royal Academy of Music in London at a young age, Gordon decided to follow a career in textiles and fashion during what can only be described as one of the most exciting times in societal history – the swinging sixties.
After work experience in a Yorkshire textiles mill, Gordon started his fashion career in London boutique Jacqmar – frequented by the rich and famous. After a stint in Saville Row, Gordon went back to Jacqmar and soon became one of the most respected designers of menswear in the 1960s. His most iconic design, a men's shirt in military green with white collars and cuffs for Terence Donovan, was featured on the cover of Vogue magazine.
Gordon moved from fashion designer to fashion editor of Michael Heseltine's Man About Town magazine, an important British men's magazine of the 1950s and 1960s. While still with Man About Town, he was recommended by the fashion editor of the Sunday Times to head up the first ever male boutique 'Trend', in Simpsons store, Piccadilly – a whole new concept at the time.
In his latter career, Gordon was entertainment director at The Ritz. It was during this time that he attended a ball at the Grosvenor House for what was the Cottage Homes charity, when he first heard of what would become the Retail Trust. The seed was sown that evening and is how it came about that after a long and varied career involving extensive travel and incredible experiences, Gordon has come full circle to where he began life in Mill Hill.
Surrounded by framed reminders and memorabilia of his careers and achievements, and of course his grand piano, Gordon is comfortable and happy in his cottage at Marshall Estate, his life recorded in a self-penned novel, For Better, For Worse - which provides an engrossing picture of London's social life over the past seventy years and a life well lived.
"They (the staff) are a great crowd and they are not obtrusive so one is allowed one's privacy – unless of course you want the company…if you need them the staff are there to support and help you."
Find out more about our supported-living estates.