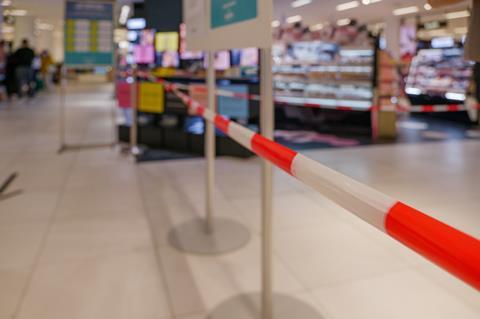 After a terrifying critical incident at a high street store in the Midlands, the head of HR reached out to the Retail Trust to find support for the store manager and her team. Emma and Annie* share their story.
Annie, store manager: "It was around 11am on a Wednesday morning in July. I was in my office in a meeting and the team were in different places: the fitting rooms, shop floor and stockroom. Two lads ran in, knocking everything over, and headed to the fitting rooms. Moments later two more ran in, one drew two machetes into the air and chased the first two. I could see it on camera and opened my door as the lad with the machetes went to stab one of the other lads. I closed the door for a couple of seconds to compose myself and decide what I was going to do, then walked into the store. The first two lads locked themselves in the fitting rooms and when the lads with the machetes realised they couldn't get to them they ran out of the store.
"All the customers had gone and everyone was shouting. I thought the lads in the fitting rooms were in danger and my first thought was keeping everyone safe. I went to lock the door, then the two lads emerged from the fitting room and tried to get out, while I tried to keep them in. Then someone said they had machetes too and one of the lads, who had a machete down his trousers, wriggled his way out of the door and they ran off. The centre guards have a run and hide policy, so I was screaming, 'where are you?' on the radio but no one came, so we were on our own for 15 minutes. Finally the police arrived, about 20 in total. We had to relive it all day, watching the video with the police and giving statements. It was very stressful and I was in tears when I spoke to Emma. I couldn't stop worrying about whether I'd done the right thing. When I got home I sat on my settee for three hours completely numb."
Emma, head of HR: "Annie had a lot going on with the police arriving and needing information, so I called the Retail Trust. I spoke to our account manager and told her I needed to get someone to the team as quickly as possible. She gave me the helpline number and sent an email behind the scenes to let them know I'd be calling about a critical incident. I was put through quickly – the lady that I spoke to was lovely, very helpful and supportive. She suggested I tell the team to call her, but I wanted somebody to go to the site because I knew they'd say they were fine, even if they weren't. I was given a number to give to Annie to arrange for a specialist trauma responder to come and see them."
Annie: "We're a close-knit group but we were struggling. I was feeling desperate, I was really jumpy and didn't want to leave the house, feelings I'd not had before. We all went through different stages, my deputy was angry, whereas I couldn't stop thinking about it and the what ifs, another team member was worried they would come back. I knew we needed a group session so everybody would open up.
"A week later, Peter*, came to see us. There was three of us at the first session, because of holidays and whatnot. Peter was a tonic, lovely and calming, but he challenged us too. The session lasted for three hours, he explained how to park our thoughts and gave us lots of tools. Three weeks later we had a second session. The girls who were at the first session talked about what had helped them and Peter delved more into the two who couldn't make the first session.
"The counselling was invaluable, it helped us to manage our thoughts and we each cherrypicked the coping mechanisms that work for us. If I hadn't spoken to anyone I'd be in a very dark place, because the thoughts would have eaten me up. We're in a good place now and I'll take the tools through the rest of my life."
Emma: "You don't expect these kinds of things to happen when you're selling dresses and tops, it was a case of wrong place, wrong time. We knew that once the shock and adrenalin had worn off the true emotions would come out, so it was a comfort to know the Retail Trust were able to support the team and it was great to see how quickly and seriously they responded to the situation."
*Names have been changed
Critical incident at work?
Cliff Lee, director of wellbeing services, explains how the Retail Trust can help.
"Thankfully, whilst incidents of this nature are not an everyday occurrence, when then do happen, they can be extremely distressing for all those involved. In the last year alone, the Retail Trust's team of specialist trauma responders have provided assistance to our retail partners for over 60 incidents across the UK and ROI, supporting in excess of 450 instore colleagues as a result of a workplace critical incident.
"If you or your team are subjected to an act of violence, are a victim of a crime or involved in a workplace critical incident, you can be confident that the Retail Trust's team of trauma specialists will be available to guide you through the initial aftermath and the days and weeks that follow an incident with a range of onsite and remote approaches to support the psychological needs of you and your teams."
To find out more about the range of critical incident support we provide and how to report an incident, take a look at our critical incident guide.