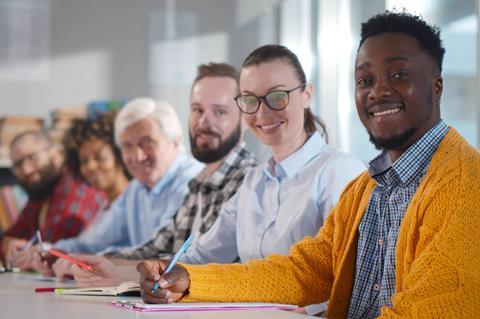 In 2021, retail partner Aldi approached us to help them to design a bespoke course to begin their colleagues' training in mental health awareness. The course was to be attended by store managers, assistant store managers, logistics managers and executive managers, as well as their senior leadership team, directors and CEO.
Working closely with Aldi's HR team, we created the 'supporting mental wellness' course, which resulted in the delivery of nearly 350 sessions across the organisation over a six-month period, and trained in excess of 3,000 leaders across 13 Aldi locations.
The brief
To co-develop and deliver a full-day training course to equip leaders at Aldi to confidently support themselves and their colleagues in mental wellness, with a consistent approach across the UK.
The course for leaders would help them:
Understand their own wellbeing needs
Feel more confident when encouraging and engendering mental wellness
Recognise if a colleague is struggling
Feel better prepared to support and signpost colleagues who are experiencing difficulties with their mental health
Be clear about their role as leaders in supporting colleagues struggling with their mental health.
The solution
The development of a comprehensive full-day course that combined facilitated content with practical exercises to ensure that all learning outcomes required by Aldi were achieved. As a result, over 3,100 leaders from across the business attended the training over a six-month period.
Key areas within the course content included:
UK workplace wellbeing legislation
An introduction to mental wellness and links between wellbeing and performance
The impact of mental health stigma – and breaking the taboo
The role of an Aldi leader in:

Recognising when a colleague needs support
Having supportive conversations
Signposting effectively to self and group care.
And here's what Aldi colleagues thought:
The courses received one of the highest participant scores of the training Aldi has offered, at 4.8 out of 5.
"The most engaging and thought-provoking course so far."
"Very friendly and informative and very beneficial for both myself and my team; ten out of ten."
"It was good to understand our role in mental wellness better and accept that we don't have to have all the answers and we are there to guide and support, not provide the solution."
"I was surprised at how engaging and relatable it was made to be. It's a very tricky topic, but the trainer was exceptional with an open and friendly style."
"A good mix of supporting your team's mental wellness as well as your own."
"Very in-depth and reassured me that taking an individual approach and signposting can be more beneficial in the long run."
"I was surprised with how interesting and informative I found this. It helped me to put my personal leader role in perspective and allowed me to rethink my approach to wellbeing."
Sophie Smith, HR Director at Aldi UK, said:
"We are committed to supporting and promoting the wellbeing of colleagues across our business, so we were delighted to work with the Retail Trust to create the supporting mental wellness course and encourage more conversations and guidance around this topic. We were thrilled with the level of engagement and positive feedback it received."