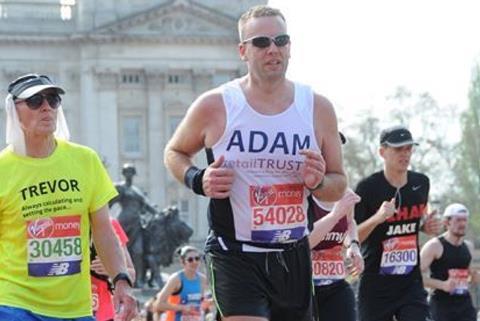 We caught up with General Store Manager Adam Thomas who ran the Virgin Money London Marathon for the Retail Trust this year. Adam raised an amazing £1,551 which will be used to improve lives across the retail sector and supporting service industries.
Working in retail for 25 years and currently for Asda in Llanelli, Adam knows first-hand how important the Retail Trust services are to the industry. Find out about Adam's experience and why he will continue supporting the charity.
Why did you choose to run the London Marathon?
"It was something I always wanted to do after beginning running as a lifestyle change."
Please can you explain why you ran for Retail Trust?
"I applied for a charity position as I've worked in retail for 25 years. I started my career pushing trolleys and have been fortunate to come across some fantastic people in this time. The one lesson I have learned from the retail industry is that people are everything and the mission of the Retail Trust really embodies this."
How did you find the run?
"Tough although I'd trained hard. I started well until mile 15 but had a problem with my foot which slowed me down and I didn't finish in the time I was hoping for."

What was your completion time?
"Four hours and 54 minutes."
Is there anything you would tell someone who is thinking of running a marathon for charity?
"Involve as many people as you can to help with fundraising and use social media as much as you can as this really gets your story out there."
Will you continue supporting the Retail Trust?
"If I can, yes. I'd love to run again as this is my passion. Hopefully I can run again for the Retail Trust next year."
Find out how you can get involved and support us