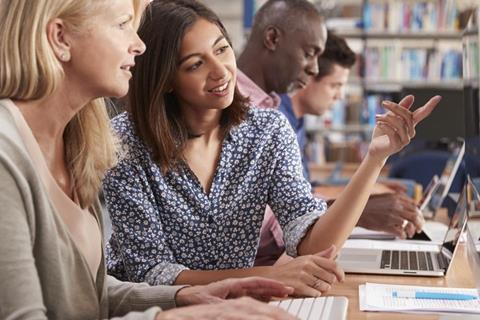 Assisting retail employees through our digital upskilling initiative
Our latest initiative focuses on supporting the re-skilling of employees who are facing redundancy across the retail sector by providing access to workshops and our online vocational learning platform that encompasses a range of resources, courses and training modules to meet individual developmental needs.
Over the past year, we have been working with Ufi Charitable Trust and both the House of Fraser Foundation and Sports Direct to support the upskilling of employees, ensuring that individuals have both the relevant life and digital skills to take up other opportunities across the industry.
Learning Manager Charlotte Richards explains: "Over the last 12 months, we've gone through a journey at House of Fraser to cope with challenges that other retailers may too be facing. We found ourselves in the position where we have had to close stores which has resulted in redundancies for individuals where we weren't able to re-deploy.
"We pulled together a number of initiatives using in-house experts and local partners to support those facing redundancy and one of those initiatives which has had tremendous success is the Retail Trust digital upskilling project.
"Colleagues with varying levels of digital knowledge and expertise were all given access to the vocational learning platform myrtwellbeing.org.uk. Individuals also attended workshops and found them to be useful in supporting them to secure new roles and build their skills and knowledge in the digital world we now live in. It has been amazing to see individuals who were really nervous with regards to anything digital, leave the sessions full of confidence to go out there in the digital world to search and apply for new roles! It's been great to hear of individuals securing new roles having put into practice skills and knowledge learnt through the learning platform and the upskilling sessions."
Watch the following video to see how we provided invaluable support through a difficult time to Service Manager Jane Wealthall.