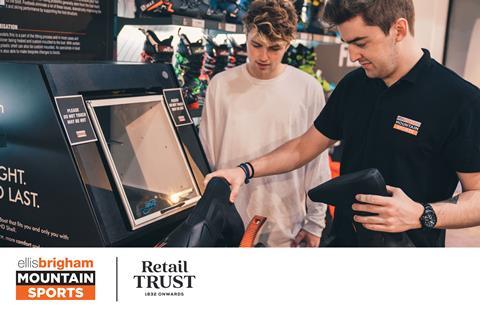 21 September 2023
The UK's largest independent outdoor retailer has partnered with retail industry charity the Retail Trust to protect its staff's mental health amidst declining wellbeing across the industry.
The Retail Trust warned earlier this year that eight in ten retail workers are experiencing deteriorating mental health, with the rising cost-of-living and an increase customer abuse some of the contributing factors according to its 2023 health of retail report.
It has now begun working with Ellis Brigham to provide its 450 employees across 24 stores with new support, including counselling, cognitive behavioural therapy and financial aid. They will also be given access to the Retail Trust's 'better you' happiness assessment, which provides employees with personalised support and employers with data and insight to manage workplace mental health.
Mark Brigham, marketing director of Ellis Brigham, said: "We already take every feasible step internally to ensure our staff are happy and supported in their roles. Being in the sector we are in, the majority of our staff also spend a lot of time being active outdoors which we all know is good for mental health and wellbeing.
"Yet, situations may arise where impartial advice or financial support is needed. By joining forces with the Retail Trust, we are able to offer all our staff access to a full support package throughout their career with us."
The Retail Trust works with more than 200 retailers to create happier, healthier workplaces and bp and WHSmith are among other businesses to have partnered with the charity to support their staff for the first time this year.
Chris Brook-Carter, chief executive of the Retail Trust, said: "We know from the calls to the Retail Trust's helpline and the conversations with the businesses we work with that there are lots of different pressures facing everyone working in retail right now.
"It is difficult for many people, but our newest partnership with Ellis Brigham demonstrates that retail businesses of all shapes and sizes are taking vital steps to ensure a healthier, happier, and more resilient workforce."
Laura Thompson, supervisor at Ellis Brigham's Bristol store, added: "The Retail Trust really understands those of us who work in retail and the support they offer is invaluable. I'm so pleased we are able to access their services. It makes me feel really supported in my role."