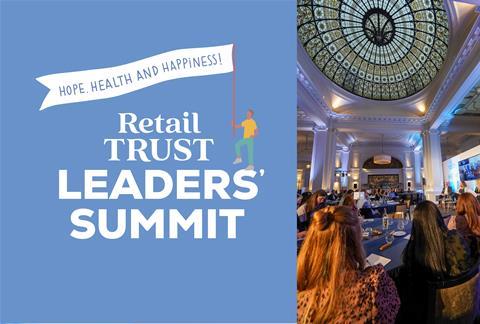 13 October 2022
Leaders from Next, FatFace, Ann Summers and B&Q among those already confirmed to be attending new event aimed at boosting wellbeing and tackling staff shortages in the retail sector

Retail and mental health experts including Will Crumbie, CEO of FatFace and Dame Fiona Kendrick, former chair and CEO of Nestle UK&I will speak at the Retail Trust's Leaders' Summit on Wednesday 11 January.

Registration for event at Pan Pacific London now open via the Retail Trust's website
Some of Britain's biggest retail employers are joining forces with industry charity the Retail Trust at a new event to tackle deteriorating mental health and large staff shortages across the sector.
The Retail Trust's Leaders' Summit on Wednesday 11 January will unite more than a hundred leaders from brands like Next, FatFace, River Island and B&Q to explore what employers can do to boost wellbeing, attract more workers to the industry and protect staff from rising levels of customer abuse.
It follows research by the Retail Trust from earlier this year which found more than eight out of ten retail workers had experienced a recent decline in their mental health.
One in five British retail workers and a third of people working for the UK's biggest retailers said they were also planning to quit the sector amidst already critical staffing gaps, with the UK recording more job vacancies than unemployed people in May for the first time since records began.
The one-day event for HR and people directors will be led by mental health trailblazers and retail experts such as Will Crumbie, CEO of FatFace, Adam Warne, CIO of River Island, and Sarah Welsh, CEO of N Brown.
Nick Beighton, CEO of Matchesfashion, Dame Fiona Kendrick, former chair and CEO of Nestle UK&I and Helen Dickinson, chief executive of the British Retail Consortium are among others who will share their experiences and advice for creating a happier workforce.
There will be panel discussions and workshops on everything from building wellbeing strategies and tackling issues with retention and recruitment, to preventing customer aggression and the role of employers in supporting staff experiencing domestic abuse.
Chris Brook-Carter, chief executive of the Retail Trust, said:
"The retail industry needs a happy and healthy workforce if it is to survive and thrive so we're uniting the retailers who are ready to address many of the issues and uncertainty facing so many people working in the sector right now.

"Together, we want to reposition UK retail as an exciting, vibrant and people-first industry so they can attract and retain more workers, and to provide the tools, services and channels that will empower colleagues to begin to take control of their health and wellbeing."
The Retail Trust Leaders' Summit is also being supported by Dentons, Foot Anstey, Kärcher, Retail Week and Wagestream.