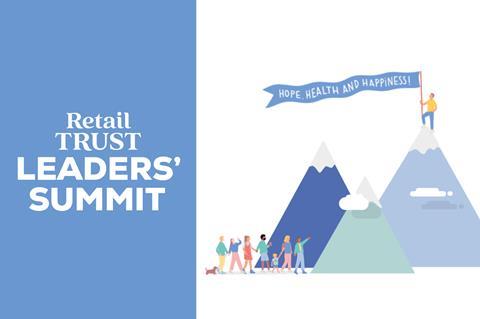 1 November 2021
ASOS, B&Q, John Lewis, Tesco among retailers backing free Retail Trust event to improve staff wellbeing as retail job vacancies hit record high

More than 100 retail HR leaders have already signed up for the Retail Trust Leaders' Summit on 9 November at the Andaz London Hotel
More than 100 retail HR leaders are attending a free event being run by the charity Retail Trust next week to find ways of improving staff wellbeing and attracting new people to the industry amidst an all-time high number of job vacancies and waning levels of job satisfaction.
Backed by ASOS and B&Q, the Retail Trust's Leaders' Summit will be led by speakers including Nick Davison, head of wellbeing at John Lewis, Helen Dickinson, chief executive officer at the BRC, and Leon Donald, a DE&I ambassador at Tesco.
It will explore how retailers can improve mental health, better embrace diversity and inclusion, and attract much-needed new staff, while TV presenter Davina McCall will call on retail employers to tackle the taboo around the menopause by creating more open workplace cultures.
Businesses can still register to attend the free one-day event in London on 9 November where Jacqueline Gold, CEO of Ann Summers, Jane Beresford, group director of people partnering at Pets at Home, and Lord Mark Price, founder of digital engagement platform WorkL and the former managing director of Waitrose, are among other speakers.
HR representatives from Harvey Nichols, IKEA, and Primark are among those to have signed up to attend next week.
Retail job vacancies hit more than a million this summer, the highest number since records began, and research carried out by WorkL for the Retail Trust found that retail employees now have the lowest levels of wellbeing compared to people working in technology, hospitality, travel and leisure.
Nick Davison, head of wellbeing at John Lewis, said: "The Covid-19 pandemic has challenged the whole of society in ways we probably could not have imagined before last year and the retail industry has had to operate through the most uncertain of times. There has never been a better time for us to show a collective leadership and share best practice to support our people."
Chris Brook-Carter, chief executive of the Retail Trust, said: "Retailers are facing significant HR challenges to guarantee a successful future for their businesses and the industry in general. Wellbeing among retail staff is falling following much upheaval over the last 18 months, and this is contributing to huge shortages of workers as employers struggle to attract the talent they need.
"Our people's hope, health and happiness should be placed at the heart of how we operate as an industry, but this will only be possible if we make a commitment to better look after one another and with it, the future of UK retail. We have brought together industry leaders and experts to address the issues facing employees with HR professionals from across the sector, so that we can ask what kind of industry we want to work in and how we support those that have kept the wheels of retail turning in such difficult times."