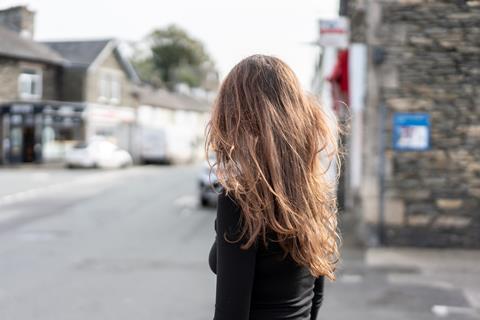 Julie, 61, is store manager for H&M, from Hampshire. Julie experiences customer abuse every day and feels concerned for the safety of their team.
"I have worked in retail for 23 years and I have never known it so bad. I work in a town centre and when I first started, we had security guards that supported all the stores three to four days a week, plus a large police presence and council wardens patrolling.
"If there was an incident, somebody would arrive within 10-15 minutes. Today, it is almost impossible to get through when you call 101. I once waited on the line for 40 minutes before putting the phone down.
"Unless you have a clear CCTV image of a person up-close and what they have done, the chances of getting that person arrested and to court is almost impossible. I had some garments thrown at me last week, but because it was outside of the CCTV zone, nothing could be done.
"All retailers need better CCTV to work more closely with the police. Often, in an incident report we'll write which direction a shoplifter ran so the police can request external CCTV footage from the council which could be vital evidence, but after 28 days that footage gets over-ridden with new footage so we lose.
"In town, there are groups of between eight and 14 teens, well-known to retail workers, who come in every day and cause havoc. They run through stores, pushing over floor stands and hitting passers-by or store workers with sticks.
"I was threatened by a guy five months ago who said, 'I will flob down your throat then kill you.' That was because he was trying to return an item that he had stolen 15 minutes previously, for cash.
"We have incidents like this two to five times every day. I'm quite thick-skinned, I've been around a long time, and I go home and my other half says 'you shouldn't have to put up with that,' but it's become part of my job.
"We employ staff from 16 years old and it's not nice to see the young team experiencing how rude people are. One of my team has dealt with a known shoplifter for the last two weeks and on the way home the other night she walked past him, and he recognised her and just laughed.
"Thankfully, we belong to a local business crime reduction partnership so most of us in the town centre have radios to share information about incidents, we hold regular meetings and share photo identification of people causing trouble. My employer would never want any member of staff to put themselves at risk of harm and that's very clear in our training, but some days I feel like I'm fighting for the safety of my team.
"In the last year, a manager of a different retailer in the area was threatened with a machete. We come to work to sell clothes and serve the public who kindly come in to see us, but from the minute you start work, you know that something is going to kick off."
Would you put up with this?
Let's respect retail and stop the intolerance epidemic.
*Image posed by a model