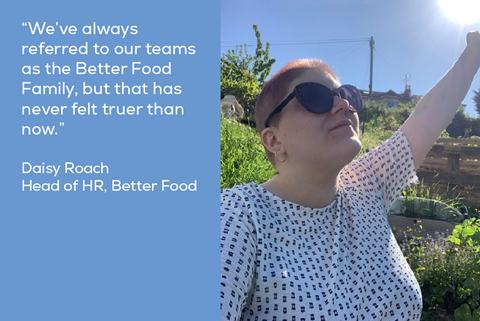 The support from our retail colleagues has been absolutely incredible during this difficult time. Many individuals and retailers have generously donated to the #forthefour campaign to help our retail colleagues during COVID-19.
One of the bravest supporters of this campaign is Daisy Roach, Head of HR at Better Food. On Tuesday 12 May 2020, Daisy shaved her hair to fundraise #forthefour.
Daisy's commitment to her retail colleagues helped raise a magnificent £491 and counting.
We caught up with Daisy to find out about the impact of COVID-19 and why she chose to support #forthefour.
Has your role changed during the COVID-19 crisis, and if so how?
It hasn't changed more so than enhanced. My role has always been about the wellbeing of our people, and this has never been so important as now. We are an essential business so all our teams are in stores helping keep our local communities fed.
What impact has this had on your life?
I'm available for all of our teams, all day every day. Sometimes that's a phone call at 6pm on a Sunday, others its first thing in the morning. It doesn't matter as long as there is the support there for them, which the Retail Trust has been fabulous for.
Is there anything you would like to say to someone in a similar situation to you?
It'll be okay. People will remember this for better or for worse – be sure they're remembering your handling of it for the better. I'd rather be accused of overreacting and putting unnecessary protection in place than underreacting and endangering our people's lives.
Can you tell us about a positive experience you've had while working through the crisis?
There have been so many positives actually. The sense of camaraderie and team spirit is alive and well, and we're all really bonding as a group. We've always referred to our teams as the Better Food Family, but that has never felt truer than now.
Can you tell us why you chose the Retail Trust and the #forthefour campaign as the charity you wanted to support?
Having worked in retail HR for over ten years in a variety of organisations, the Retail Trust has pretty much always been there. I've had some pretty serious incidents to deal with, and the response from the rthe Retail Trust critical incident team has always been fantastic. Retail workers have been split massively - some are key workers risking their lives every day, and others furloughed or without work facing financial hardship and an unknown future. These pose very specific and difficult challenges and the Retail Trust is there to support them every step of the way.
Daisy displayed outstanding commitment and support for her retail colleagues. The Retail Trust, RWRC (the home of Retail Week and World Retail Congress) and the BRC are grateful for the ongoing support Daisy and the industry have shown to the campaign.
Support #forthefour today to help the UK's retail workers during the COVID-19 pandemic
Retailers can help fund the appeal by contacting Claire Greenwood our Head of Funding.
Individuals can donate to the #forthefour appeal here.