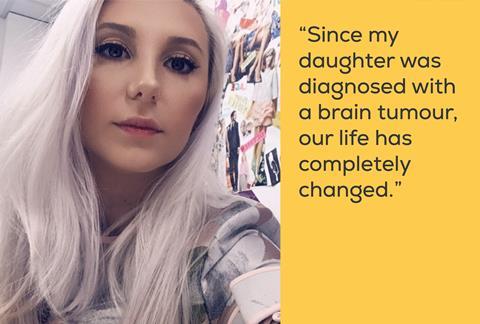 "Since my daughter was diagnosed with a brain tumour, our life has completely changed."
When Senior Sales Assistant at Ted Baker, Lavinia Elena Cretul stopped working to support her family, they soon began to feel the financial strain.
Lavinia's three-year-old daughter Maya was recently diagnosed with a brain tumour. Throughout the COVID-19 pandemic Lavinia and her family have been coping with increased hospital visits to undergo intensive treatment coupled with the financial worries of not working.
"As soon as Maya was diagnosed, I stopped working. And soon we started to have financial difficulties on top of everything else that was going on with my daughter.
"Maya will be given 18 months of chemotherapy treatment. This is going to be the most difficult time for her and for us as she is only three years old and the treatment will be strong."
Lavinia contacted the Retail Trust for a non-repayable grant to support the family through this difficult time.
"I learned about the Retail Trust from my store manager. This is the first time I've asked for help and to be honest I wasn't expecting to get financial help so quickly especially during this pandemic. At this point we started to worry about rent, bills and the amount of trips that we make to the hospital. This grant will be used to pay petrol and food for my daughter as she is struggling with side effects from the chemotherapy.
"I would recommend the Retail Trust to any of my colleagues that are going through a difficult time in life as for me it will make a difference."
Click here to find out more about the financial support the Trust offers.