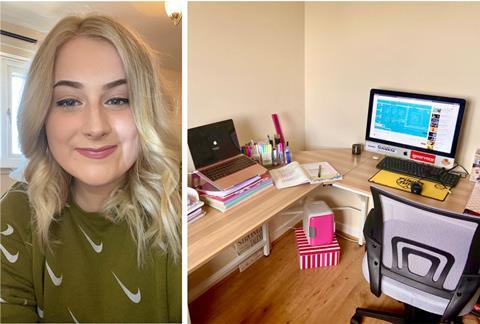 When university student Eve Parker's partner was made redundant earlier this year due to the COVID-19 pandemic, she was struggling to create an environment in which she could successfully study from home.
The Retail Trust awarded Eve with a non-repayable grant which allowed her to pay her monthly bills and create an environment she was comfortable learning in.
"My partner, like many others, was made redundant during the pandemic and it brought worrisome times for us both! But we have pulled through and there are brighter times ahead.
"As a student, having an organised and comfortable space to study is key. I used my bursary to create a space I would enjoy studying from at home.
"Before this gesture of kindness and generosity I found myself working on a camping table and sitting on a garden chair throughout lockdown while studying from home.
"I was finding it more and more difficult to pay my bills and continue studying.
"I can't thank the Retail Trust enough for everything. What an amazing non-profit organisation. This will have an invaluable impact on my studies for my final year at university."
If you or someone you know would benefit from an educational grant, please visit Financial aid.