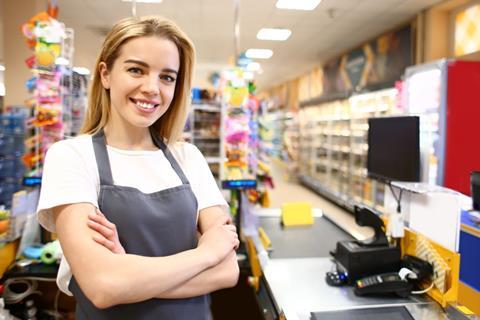 Abbey Glover | Walton B&M store, Liverpool
Abbey was working for a food retailer but her hours reduced during the COVID-19 pandemic and so she decided to try something different.
Abbey came across the traineeship opportunity online at getmyfirstjob.co.uk. She was contacted by Qube Learning and taken through the eight-week traineeship model. She attended an induction a few days later and felt like all the staff was welcoming and friendly. She could see herself working within the Walton B&M store.
"The staff in-store were really friendly from the beginning."
Abbey started her eight-week traineeship and was shown how to rotate stock, and learnt about pricing and how to interact with customers. She worked in the home department of the store and really enjoyed working with homeware. Deputy manager Liam was really impressed with Abbey's work ethic and wanted to acknowledge her hard work. The store made her the home department champion for that week.
"In week three I was made home champion in store. They said from week four that they would take me on, I was really proud of myself."
After her traineeship, Abbey was offered a temporary role over Christmas which she accepted.
When her temporary contract came to an end, Abbey was offered a permanent 21-hour contract with B&M Walton store. Through her hard work and dedication, this has now turned into a 30-hour permanent contract.
"I can see myself staying here for a while and taking up other opportunities.
"I would urge others to go for it, try your best and don't be scared to ask for help."
Abbey feels her experience was really positive and has led her into a new opportunity with B&M.