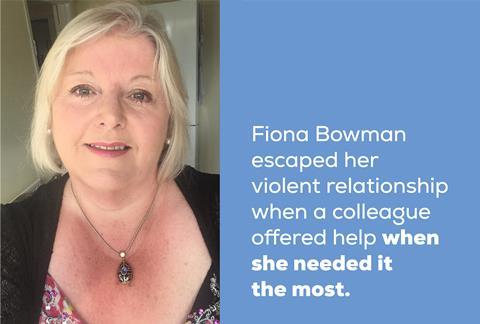 Fiona Bowman, 64, escaped her violent relationship when a colleague offered help when she needed it the most.
As told to: Rosie Mullender
I met Derek when I was just 16, and training to become a nurse.
He was charming at first, sending flowers and chocolates, and sweeping me off my feet – but very quickly, he became controlling. He wanted us to spend all our time together, and hated me working with male patients and nurses. He'd even turn up to the hospital unannounced, and eventually convinced me to give up my dream and get a job as a bank cashier instead.
By the time Derek and I married five years later, he'd already started hitting me. When he said it was my fault, I believed him, and I thought if I could only try hard enough, I could 'fix' him – but of course, I couldn't. Instead, as the years went by, the violence escalated.
I'd tiptoe around, desperately trying not to upset him. Then I'd do something as simple as going for a drink with friends, and it would set him off. I often had to ring in sick due to my injuries, which led to a warning about my attendance. But I felt ashamed of what I was going through, and went to pains to hide it.
I learned to tell the most phenomenal lies and excuses: 'I walked into the door, I fell down the stairs, the dog head-butted me.' I knew my friends and colleagues didn't really believe me, but in that situation, people often don't have the courage to ask any more questions. When I said, 'I'm OK, everything's fine,' the conversation ended there.
Things finally came to a head when, after 11 years with Derek, I ended up in hospital.
I'd suffered serious injuries before, but this time, after accusing me of cheating and beating me badly, Derek sent me out to buy him some fish and chips. On seeing my bruised and swollen face, the restaurant owner urged me to go to hospital, and I hailed a passing taxi, which took me to Edinburgh Royal Infirmary.
I didn't want the nurses to call anyone. I didn't want my friends or family to know what had happened. But when nurses found the keys to the bank's vault in my handbag, they couldn't take responsibility for them – so reluctantly, I gave them my manager's phone number.
When Graham, the manager, saw my injuries, he was stunned. At first, he didn't know what to do, but then he contacted the bank's HR department. When I was discharged from hospital, I went back to Derek, because he'd told me that if I ever left him, he'd find me and kill me – and I believed him. But when I returned to work, a woman from the HR team called Angela drove up from London, handed me her business card and said, 'I know you don't want to listen right now, but when you're ready, and you want to leave, we can help you.'
At last, I knew I could get help if I just reached out and took it.
It was still a few weeks before I found the courage to call Angela, but when I did, she was incredible, arranging a transfer from my job in Edinburgh to a branch of the bank in London, over 400 miles away.
The weeks leading up to leaving were the most terrifying of all. I left the house one morning after Derek had gone to work, my stomach in knots in case he came home unexpectedly. At the time, he was working for British Rail, so I couldn't risk going to the station to get a train to London – I had to go to the airport and buy a ticket on the spot with what little money I had.
When I arrived in London, carrying just one small holdall, I booked myself into a hostel with no idea what might happen next. The one thing I had to hold onto, which gave me hope, was my new job. Having the support of my employers as I rebuilt my life meant the world to me. They arranged for me to see a solicitor, so I could start divorce proceedings, and gave me time off to sort out my financial affairs and living arrangements.
They also told the staff at my old job that I'd left the bank altogether, and when Derek inevitably came to look for me, they told him they didn't know where I'd gone. They covered my tracks so he couldn't come and find me, which was my greatest fear. It took me a long, long time to feel safe, and I still suffered with nightmares and flashbacks.
Sadly, I couldn't turn to my family for help, which can be the case for a lot of women and men who are experiencing domestic abuse. That's one of the reasons it's so important for colleagues to understand the signs, and reach out a helping hand if they can. If you think there's something wrong, saying, 'I know you might be having a hard time at the moment, but I'm here if you need me. I can try and help you, or just listen,' is all it takes.
In a lot of abusive relationships, there's never any physical violence, but it's all about coercion and control. Financial abuse is a big problem, and around 74% of abuse victims feel they can't leave because of money worries. Retailers have a significant opportunity to offer help at a time when victims are separated from their abuser, and perhaps give them the crucial chance to move to another branch.
Sadly, people are often afraid to offer that help. They think they have to be an expert, or to get very involved to make a difference. But if you put the number of the National Domestic Abuse Helpline or the Men's Advice Line UK on the side of the coffee point, or on a notice board, you might never even know someone has accepted your help.
It's about having mechanisms in place so men and women can access help if they need it, and understanding how to spot the signs of abuse. Then, if you recognise there's a problem, doing something about it, even if it's just referring someone to the appropriate services. When you reach out a hand, you give a person suffering abuse a light at the end of the tunnel. You could be the lifeline someone is waiting for – and you might even save their life.
---
"Helping Fiona took one simple step"
Graham Whittaker, Fiona's manager at the time, explains how managers really can help someone experiencing domestic abuse.
"Until that night, I didn't have any inkling about what Fiona was going through. But when I saw her in hospital, her injuries were so bad she was unrecognisable. She eventually admitted she was suffering domestic abuse, and seemed relieved to be able to talk to someone she knew she could trust. I knew I had to help, but didn't know how, so I contacted our HR department. And they took over from there. They arranged Fiona's transfer to another branch of the bank 400 miles away, so she could escape her abusive husband without losing her job, and gave her the time off she needed to start rebuilding her life. I think the important thing for managers or colleagues to remember is that you don't have to do much to help people, it's all about helping the person experiencing abuse take the next step, which is reaching out for expert help."
Get help
If you or someone you know may be suffering from abuse there are several specialist organisations that can help. For 24-hour support, call the National Domestic Abuse helpline on 0808 2000 247 or the Retail Trust helpline on 0808 801 0808. If you feel that you are in immediate danger, always call 999.