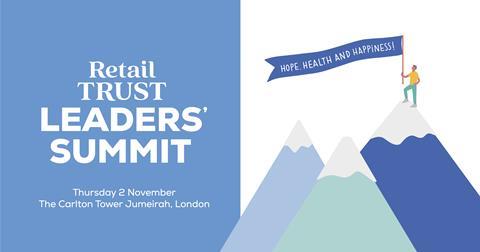 19 October 2023
Retail Trust event shines spotlight on issues critical to improving wellbeing
Half of retailers are seeing more absences due to mental health issues and 80% of staff are experiencing deteriorating mental health according to latest Retail Trust research
New Look's CEO Helen Connolly will join hundreds of retail leaders aiming to boost their staff's wellbeing at the Retail Trust's Leaders' Summit next month
Registrations for the event at The Carlton Tower Jumeirah in London on 2 November are still open via the Retail Trust's website
Customer abuse, mental health support, and the four-day week will take centre stage at the Retail Trust's Leaders' Summit next month, as retailers explore what they can do to create happier workplaces.
The event will bring together more than 100 of Britain's biggest retailers including Next, Primark and WHSmith to help turn around the rise in deteriorating mental health and number of abusive incidents being reported across the retail sector.
Research by the Retail Trust for its health of report this year found that 80% of staff are experiencing deteriorating wellbeing and half of retailers are seeing more absences due to mental health issues, with some managers describing a troubling rise in abuse from the public, staff theft due to the cost-of-living crisis, and an increase in suicidal colleagues.
New Look's CEO Helen Connolly will be among those sharing their own experiences with retail leaders at the one-day event in London on 2 November, by discussing the changing role of leadership in retail.
Other issues being addressed at the Retail Trust's Leaders' Summit includes what employers can do to support their people in a time of crisis, whether the four-day week can work in retail and what needs to be done to tackle rising levels of customer abuse.
Chris Brook-Carter, chief executive of the Retail Trust said: "We're bringing together the bosses of Britian's biggest and best retailers to look at the issues critical not just to improving the industry's role as an employer of three million people, but also for the success of retail itself.
"The health and happiness of our workforce has a real impact on the strength of the retail industry so amidst some troubling trends impacting people in retail right now, it's important we take the right steps to boost wellbeing, creativity and productivity across the sector."
Adidas's executive board member for human resources, people and culture, Amanda Rajkumar, Next's head of HR and the chair of its LGBT+ employee network, Andrew Jurd, and broadcaster and journalist Kate Garraway are among others who will share their expertise at the Retail Trust's fourth Leaders' Summit.
The event is also being supported by the British Retail Consortium, Dentons, Foot Anstey, Kärcher, Nutun, Peoplesafe, TwentyCi, Usdaw and Wagestream.