We believe in a world where everyone involved with retail is able to access help and preventative support to manage their health and wellbeing whenever they need it. Partner with us today and together we can transform the lives of people for good.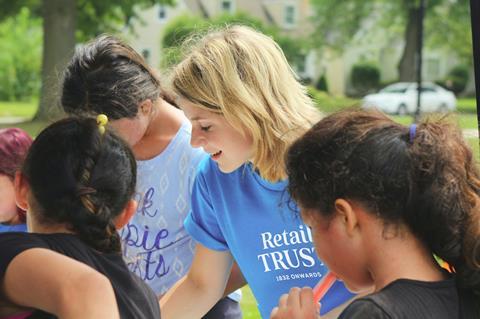 If you're interested in supporting the Retail Trust, please get in touch with us at fundraising@retailtrust.org.uk
New Look Gives
New Look Gives launched a three-year charity partnership in September 2018 with the Retail Trust, Hospice UK and Teenage Cancer Trust. The aim was to increase awareness of each charity and its activities among New Look employees, and raise essential funds for the charity partners.
Mark Axon, Chair of New Look Gives explains: "Bringing positivity to life is how we like to think about our charity partnerships at New Look. We want to do exactly this for our customers, our colleagues, and of course for our charity partners and those individuals and families who benefit from their vital support and services."
The partnership has strengthened the relationship between New Look and the charities, and improved awareness about the services and benefit the charity partners bring to the communities they support. For example, the number of New Look employees who contacted the Retail Trust helpline for wellbeing support increased by 16% in the first year.
Over the last two years, the partnership has raised over £485,000 for the Retail Trust, Teenage Cancer Trust and Hospice UK. The funds have been used to provide critical support to those most in need including children and young people facing cancer through Teenage Cancer Trust, support for those needing end of life care via Hospice UK, and wellbeing services for those working in retail through the Retail Trust.
The team are currently planning more innovative fundraising activities and awareness events for the final year of the charity partnership, to make this the best one yet.
The New Look Gives step-tember challenge was a finalist for challenge event of the year in the Business Charity Awards 2021.