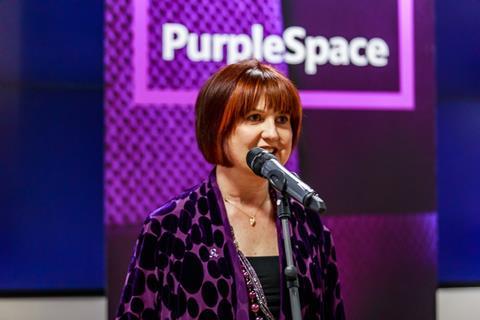 Kate Nash is creator & CEO of PurpleSpace – the world's only professional development membership hub for disability employee resource groups / networks leaders, allies and champions.
PurpleSpace delivers leadership know-how to network leaders and is the go-to global community of disabled employee network leaders across all sectors with 1,300+ members across 170+ employer brands.
PurpleSpace emerged after the publication of her 2014 book Secrets & Big News. The book examined how hard it is for people to share personal information about their disability/health condition at work. Over 2,500 disabled employees from 55 employers took part – and the Big Ideas help employers to support their own disabled employees to unlock their potential.
PurpleSpace helps employers to learn directly from their own people in order to build disability confidence from the inside out. In 2017 they launched the #PurpleLightUp a global movement to showcase the work of disability ERGs/Networks in the run up to the UN International Day of Persons with Disability.
Kate is a member of the UK Minister's Disability Confidence Business Leaders' Group and judge for the Shaw Trust Power 100 List.
In 2007 she was awarded an OBE for services to disabled people.
Between 2001-2007 she was Chief Executive of Radar and appointed an Ambassador for Disability Rights UK in 2007.
@KateNashOBE
@mypurplespace