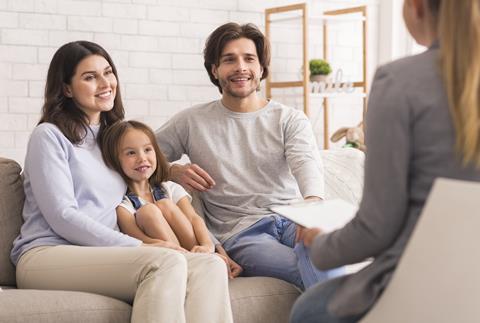 Children can develop the same mental health conditions as adults, including anxiety and depression. However, the symptoms may differ.
Understanding your child's mental health can feel daunting, but you are not alone. Whether you are looking for information and guidance or professional support, the Retail Trust is here to help.
It's really important to remember that the emotional wellbeing of children is just as important as their physical health. Good mental health allows children and young people to develop the resilience to cope with whatever life throws at them.
How common are mental health conditions in children?
Adolescent mental health conditions are more common than you think, so it's important to know that you and your child are not alone. According to a study published on behalf of Heads Together (2020):
One in ten children in the UK suffer with a mental health condition.
Around 113,000 children in England have shown signs of a mental health condition by the time they start school. The most common conditions include anxiety and depression.
Almost a quarter of young people (aged between 16 and 18 years old) will experience depression.
Signs and indicators of adolescent mental health conditions
There are many different signs and indicators that could point towards your child having a mental health condition. It's worth noting that some of the indicators mentioned below can also be an indicator of normal childhood development. The impact of these indicators can also vary in severity over time.
Here are some of the most common signs:
A persistently low mood
Tearful or emotional outbursts
A lack of interest in things they loved to do before
Feeling tired all the time
Problems eating such as eating less or binge eating
Trouble sleeping
Lack of concentration
Low self-esteem
Having suicidal thoughts.
What causes adolescent mental health?
There are many things that can increase the risk of a mental health condition such as depression or anxiety in children.
Some of those factors include:
Family difficulties
Bullying from a peer
Physical, sexual or emotional abuse
A difficult life event including the separation of a caregiver
Bereavement
Problems with school or college
Being part of a marginalised community such as LGBTQIA+.
Often it is found that children's mental health problems are brought on by a mixture of the factors mentioned above.
How to talk to your child about their mental health
We know it can be hard to deal with and understand your child's mental health condition. Here are some practical tips to open up the conversation with your child around their wellbeing:
Create a safe and welcoming environment
Make sure you have uninterrupted time with your child to talk things through
Let them know you are there and are listening
Don't push them to talk, leave the door open for them and let them know you are there and ready whenever they are ready
Don't ask lots of questions and try to listen not speak
If they feel they cannot speak to you, encourage them to speak to someone they feel more comfortable with and can trust.
Remember feeling down or anxious is often incredibly normal for children and can be part of their development, it doesn't mean they have a mental health condition or require any further support.
Where to get help if you think your child is showing signs of mental health
It is critical that your child sees their GP as soon as you notice they're struggling. The GP will want to rule out any physical health problems to arrive at a diagnosis. This is usual practice. He or she will also ask about your child's symptoms and how they're affecting the child's development or quality of life.
Once your GP has determined why your child is struggling, he or she will be able to provide you with the advice and guidance on how best to support your child. This may include talking therapies (such as psychotherapy or cognitive behavioural therapy) and/or suitable medication alongside a treatment plan.
It's also wise for parents or caregivers to speak to their child's school to secure further assistance. There are also some really helpful apps that can be found on www.nhs.uk and www.youngminds.org.uk
How can I help my child cope with a mental health condition?
You will play an important role in supporting your child's treatment plan. To care for yourself and your child:
Learn and research about the condition – Young Minds is a great website with useful information and tips
Consider asking your GP about family counselling
Ask your child's mental health professional for advice on how to respond to your child and handle behaviours that challenge
Enroll in peer-to-peer training programmes, particularly those designed for parents of children with a mental health condition
Explore stress management techniques to help you manage your own stress
Seek ways to relax and have fun with your child
Praise your child's strengths and abilities.
How can I access support?
If you would like to access counselling support for your child or to learn more about the support available via the Retail Trust, please call our confidential helpline on 0808 801 0808
Other resources:
Scottish Association for Mental Health