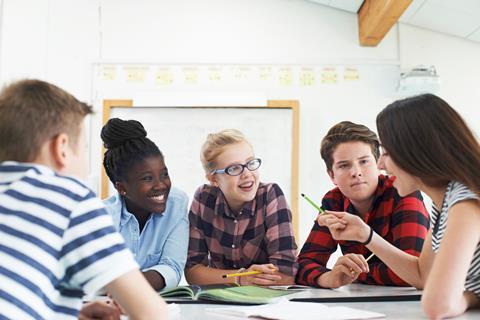 We know that being a young person can be a confusing time with lots of decisions you will have to start making. Whether that's choosing what to study at school, further education, apprenticeships or gaining a job. Youth Employment have collated a range of hints and tips to help you navigate the range of options open to you.
GCSE choices – over 14 years old
In years 10 and 11 (and in some cases in years eight or nine) you will get the chance to choose which subjects you want to take, if you are studying for GCSEs. You will have the choice to choose some subjects, but there are others you will have to take. These are known as core subjects and include:
English (either a single English GCSE, or English language and English literature)
Maths
Science (either core science, double science or triple science which covers physics, biology and chemistry).
Some schools may also set additional core subjects which you have to take, but the three subjects above are considered vital in all schools. To pass these subjects you need to get a grade four pass (or a C grade in the old system), but you can retake them to achieve this grade if you need to.
In addition to the core subjects, you will also be required to pick GCSEs you want to do in the following four areas:
Arts
Design and technology
Humanities
Modern foreign languages.
A-levels and choices – over 16 years old
You have lots of options open to you at the age of 16, although you are still required to continue some form of learning or training. You may decide that you want to study for an apprenticeship, A-levels (or their equivalents) or complete a vocational qualification to get started in a career. It is useful at this stage to research these different pathways and see what's best for you.
You may want to consider whether you want to stay where you are (if that option is available) or study somewhere else, like a sixth form college. If you choose to do A-levels, ask yourself these three questions about any subject you're thinking of studying:
Do you enjoy it?
Do you think you can do well in it?
Do you think it will help you make future life and work choices in a direction you want to go in?
University
The minimum age to start university to study a degree programme is 18 years old. However, it's worth checking out the university of your choice as they all have different entry requirements. You can start to apply for your chosen course at 17 years old once you have gained you're A-levels or have your predicted grades. For more information or guidance on how to apply have a look at www.universitiesuk.ac.uk
Finding a job – 14 to 18 years old
In the UK, you must stay in school or at least be in training until the age of 18. If you decide to work at 14 you must still maintain attendance in school. In addition, you will only be allowed to work a set number of hours during term time and weekends while you are under the age of 16.
Once you turn 16 and are no longer in school, you can work a maximum of eight hours a day, or a total of 40 hours per week. Once you reach 18 years old you are classified as an adult and work under contracts of employment set out by your employer.
It's worth remembering that finding a job can be hard and there could be a lot of competition for the same role you are applying for. It may be worth looking into volunteering and gaining some experience of the job you would like to apply for. Any work or volunteer experience will be worthwhile and you can find open opportunities on www.youthemployment.org.uk
Employers look for people with positive attitudes as they can rely on them to get on with their work, as well as motivating others and creating a good atmosphere.
Employers also look for people with resilience who can learn from their mistakes.Remember, employers expect you to make mistakes now and then. After all, if you're just starting out in life a lot of work situations will be new to you! However, employers also want to know you can learn from those mistakes and keep a positive and motivated attitude.
Finally, employers seek candidates who have the motivation to put their all into a project and see it through to the end. That motivation will also help you get up for work on time and come into work every day you're expected, and that reliability will pay off. Employers will see you as someone who can be relied on, and may offer you more responsibility and promotions over time.
Work offers lots of fantastic opportunities to boost your confidence and show you have a positive attitude:
Focus on doing your work well.
When you make a mistake, treat any feedback you get as a helpful clue on how to improve and learn for next time. It's fine to make mistakes and learn from them.
Try to write down one thing you're excited about each morning.
Go out of your way to ask a work colleague who is struggling with a task if they want some help, or offer to make them a drink next time they go to the kitchen.
Creating a great CV
Applying for work opportunities already shows motivation! Your CV is a great place to list achievements that show you are self-motivated to try new things and build on your experiences.
For example, you can list volunteering you have done in the past. You can also record any training courses you have taken. Participating in team sports or extra-curricular activities shows your motivation when a teacher or manager isn't there to make you do things. Earning medals, grades or awards shows your resilience in pursuing a goal and learning to get better over time. Volunteering in team activities also demonstrates your positive attitude to working with other people.
Job interviews
You can demonstrate resilience in job interviews by talking about a time when you overcame a problem or challenge. This could be personal or at school, college, or work. It doesn't have to be a big problem, it could be that you left your keys at home and had to figure out how to get back in after school, as your parents were at work. Only share what you're comfortable with, it's probably best not to talk about a problem you had with your partner (it's not very professional!)
You can let prospective employers know you have a good attitude by making sure you arrive on time for interviews, being enthusiastic and interested in the work, and taking responsibility for things. Ask questions about the job and workplace, and talk about why you want to work there. Passion is just as important as having the right skills. Enthusiasm can't be taught and it's easy to spot if it's genuine.
There are so many chances in life to make a choice to work on your confidence and attitude to learning new things, both inside and outside of work and education.
Next steps
There are a lot of websites, apps and books about building motivation, so it's easy to do some research yourself and find some ideas that work for you.
Try asking a friend, teacher or family member how positive your attitude was to a past project you cared about, and ask if they have any pointers to help you improve.
Additional resources
Further information: