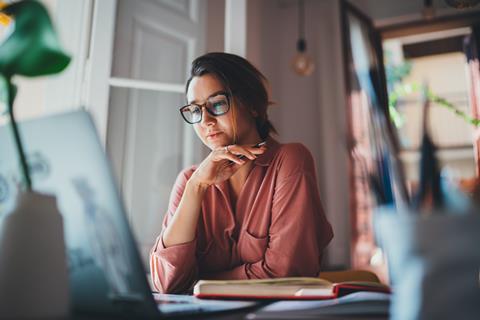 Online self-guided therapy is growing in popularity due to both its effectiveness at supporting people's needs combined with ease of access. This type of support most often uses cognitive behavioural therapy (CBT) approaches to help people learn new coping skills and make choices, enabling them to move forward with their life.
This article will help you find out more about self-guided therapy and if the support available from the Retail Trust is right for you.
What is online self-guided therapy?
Self-guided therapy is the name given to a range of therapeutic interventions that are delivered through online computerised treatment courses. Online support provided via this method does not involve the support of a counsellor but instead, allows individuals to explore their issues through the use of online learning and self-exploration.
Individuals work through a series of sessions (usually between five and eight) which require them to consider their own situation while also considering how they might address particular aspects of their challenges. Online self-guided support works by helping people to:
Understand the issues that they are experiencing and how these are affecting them
Access a range of self-help materials
Use these materials effectively
Make positive and practical changes moving forwards.
Most topics covered by online self-guided therapy are easily completed within six to eight weeks. The duration is dependent on the topic being worked through and the individual's own willingness to engage with the content.
Within some of the sessions, there may be content which becomes available at specific points based on the person's progress hence there may be the need to wait for some content to be released before proceeding with the support. This is done so that the individual has time to put into practice what they've learned in previous sessions.
Does online therapy work?
Put simply, the answer is yes.
Online therapy has been found to be equally as effective as face-to-face treatment. A research study completed in 2014 published in the journal Behaviour Research and Therapy found that when compared to traditional forms of support, online CBT was as effective in treating a range of issues.
It is important to note that online self-guided therapy as with any type of intervention requires full engagement to ensure that it is effective. This includes:
1. Commitment to accessing the sessions
2. Being open and honest with yourself when engaging with the online content
3. Ability to set limited achievable goals to work on during treatment
4. Completing suggested reading away from the sessions
5. Practising tools and techniques outside the sessions.
The benefits of online treatment
Online therapy offers many benefits when compared to traditional forms of treatment including the following:
It's easy and convenient to access when individuals are able to devote time to engage in support.
It allows individuals to sign up with a pseudonym which can help those who are worried about getting services under their real name and wish to maintain their anonymity during support.
It can be easier for some people to reveal private information when they're sharing it online without the need to speak to someone.
Those with anxiety, especially social anxiety, are more likely to reach out via online therapy.
Individuals can learn coping strategies and coping skills at a pace that works for them.
Accessing online therapy from the Retail Trust
To access a range of online therapy from the Retail Trust visit our online therapy section to start your support today.
Other resources which you may find helpful:
A guide to the Retail Trust counselling services
Guide to cognitive behavioural therapy (CBT)