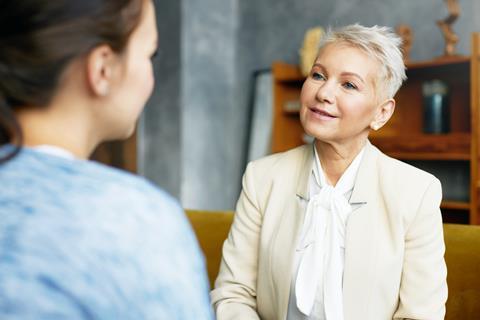 Counselling offers people from all walks of life a confidential and safe space to talk through their feelings, concerns, hopes and fears with a trained and qualified counsellor. There are a range of counselling approaches but they can all be described under the umbrella term 'talking therapies'.
In general, counselling is a process people seek when they want to change something in their lives, are feeling stuck or simply want to explore their thoughts and feelings in more depth.
Counselling can support individuals to learn new coping skills and empower them to make choices and move forward with their lives.
A counsellor will be non-directive. They will never tell you what to do or judge your situation. Instead, counsellors are trained to offer unconditional positive regard. This assists a counsellor to accept a client unconditionally which will help encourage you to talk freely about what's concerning you so that you can uncover any root causes for your feelings and identify ways of coping.
Contrary to popular belief, counselling does not always need to be conducted with the client and counsellor physically present in the same room. It can be very effectively delivered in a range of ways including remotely over the telephone or using video conferencing technology such as Skype or Zoom, along with online therapy (especially effective for cognitive behavioural therapy). As we are all different, we may prefer alternative methods of delivery.
There are a range of different approaches used in short-term counselling. Your individual goals will determine which approach might be most suited to your needs. This is something which your counsellor will discuss with you before you commence support.
Therapeutic counselling is described as a form of psychotherapy, which is a change-oriented process delivered in the context of a one-to-one relationship. The Retail Trust offers a range of counselling approaches and methods to meet your needs. Approaches are generally not used in isolation and the counsellor you work with is likely to integrate a range of approaches to ensure that you achieve your individual goals.
All counselling provided by the Retail Trust is delivered by experienced and qualified counsellors. They are fully insured and accredited through the British Association for Counselling and Psychotherapy (BACP) and/or the UK Council for Psychotherapy (UKCP).
What happens when I am allocated a counsellor?
As short-term counselling is a tool to help people explore their problems in a time-limited fashion, it is important that your counsellor is able to understand the issues that you are experiencing so that they can determine the most appropriate approach for your therapy.
When you start, you will be fully assessed by your allocated counsellor. The aim of the assessment is to firstly identify if short-term therapy is appropriate for you, and if it is, what approach they feel will be beneficial. The counsellor will use the assessment to outline what to expect during support and agree with you the aims and goals for treatment.
The assessment will also include questions relating to any risk factors you may have and support mechanisms, including social networks such as friends and family. They will explain how many sessions they feel will be required. This is usually between four and six sessions depending on your individual needs and the complexity of your presenting issue. Each session lasts around 50 minutes.
If, after your assessment, it is determined that short-term counselling isn't the most clinically effective approach for your particular issues, the counsellor will discuss this with you in detail. You'll be signposted to an alternative type of support through external services such as your GP, NHS or specialist providers local to you.
What happens during a counselling session?
While the majority of counselling is delivered on a one-to-one basis, you might see a counsellor with your partner if you are wanting couples counselling. You might meet with the counsellor face-to-face in their home, office or clinic. Alternatively, you might talk to them over the telephone, Skype or Zoom.
During your session, the counsellor may take you through specific exercises designed to help with your presenting issues, or you might have a more general discussion about how you're feeling. What you talk about will depend on what you require help with and the counsellor's approach, but is likely to include topics such as your:
Relationships
Childhood
Feelings, emotions or thoughts
Behaviour
Past and present life events
Typical response to situations that you find difficult.
It is important to understand that your counsellor will be impartial but understanding. He or she will listen to you without judgment, helping you explore your thoughts and emotions. They may offer information, but they won't tell you what you should think or do.
Remember, all of the support you receive is confidential and nothing will be shared with your employer or other third-party.
There are certain circumstances where information may be shared, such as instances where:
You give written consent to share details
You are at risk of physically harming yourself or someone else
We are required to do so by law.
This will all be explained to you before you start your counselling. It is outlined in our statement of understanding which you will receive as part of your assessment.
How to get the best out of your counselling sessions
You'll get the best results from your counselling sessions if you're open and honest with your counsellor. Tell them how you're really feeling and what is worrying you.
In short-term therapy you and the counsellor will work towards a distinctive goal. You'll develop new coping strategies and interventions, and solve problems. This work will take place during the session but also in between sessions.
Your relationship with your counsellor is very important. If you're to work effectively together, you should feel safe and able to take risks by disclosing and discussing sensitive issues. That includes being able to give them honest feedback on how you feel about your counselling sessions and how you're working together.
If you feel uncomfortable, unsure or confused about the support you are receiving and you don't feel able to talk to your counsellor, please contact the Retail Trust helpline on 0808 801 0808 and we can arrange for you to speak to an alternative counsellor.
Other resources which you may find helpful:
A guide to the Retail Trust counselling service
Guide to cognitive behavioural therapy (CBT)