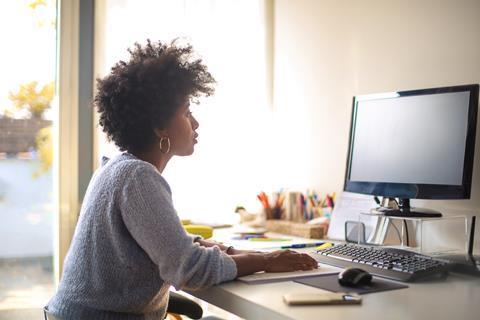 Many of us are now either working from home full-time or are based at home at least a few days a week. No doubt, you've found it a both challenging and rewarding experience. it's unlikely that the workplace will ever look the same as it did pre-COVID and it could be that many roles will continue to be home-based in the very long term.
Your home office
No doubt, if you've been working from home for some time, you have a dedicated space from which to work. But it's important to continue to evaluate how well your environment suits your needs. As seasons change, so does the quality of natural light and you might find that you'll need to adjust your space from time to time.
Your home working space should follow the same standards as any office environment and if in doubt, ask your HR team or health and safety officer for advice if you find that your current arrangements aren't helping you to maximise your productivity. Ask yourself the following, and if the space still needs improvement, address it as quickly as possible:
Are your desk and chair comfortable, or are you experiencing any back problems?
Is your space quiet enough? If you're finding that it's difficult to focus because of housemates, your children or partner, consider finding a space with a door so that you can hang a sign on it asking others to give you quiet time when you need it.
Do you have enough lighting? Keep your curtains open during the day to allow for as much natural light as possible. This is especially important during autumn and winter.
Is the lighting suitable for video conferencing? One tip is to ensure that you're never facing the camera with a window behind you as colleagues may have difficulty seeing you.
Are your cables tidy and out of the way so they don't present a trip hazard?
Do you know where to find files and other paperwork easily and quickly?
Do your smoke detectors work properly?
Are you taking breaks or lunch at your desk? If so, change your environment when you're taking time out.
Your emotional wellbeing
Human beings are social animals, so working from home may have taken some getting used to. You may have found ways to cope with feelings of isolation or you may still be struggling.
Keeping to a schedule is important for our wellbeing so if you're finding that you're 'out of sorts', consider the following:
Wake up at your usual time. Granted, you won't have a commute ahead of you, but you'll need enough time for your morning shower, breakfast and any personal tasks before you start your working day. Don't roll out of bed and straight onto your computer or work calls. You'll feel disorganised and this will come across to others.
Although you don't have your usual commute, consider taking a walk in the morning. Walk to your local park, or even around the block, and consider returning to your house as your travel time. Don't check emails on the walk but clear your mind by listening to music, your favourite radio programme, or an audio book. Even a ten minute journey means that you'll have delineated between your home life and your work life before the day starts.
Even though you're not in an office, wear something smart casual during working hours. This doesn't mean that you have to wear a suit when working from home, but day clothes will help you to start your working day mentally focused and ready.
Let your friends and family know that even when you're working from home, you're unavailable for visits. Say you'll return their calls and emails after working hours.
Hydrate throughout the day to maintain mental focus but avoid consuming too much caffeine.
It can be tempting to tidy the house, do the dusting or throw the laundry in while you're working. But before you know it, one thing leads to another…how many times have you started tidying only to find that the table needs polishing or the houseplants need watering? Housework can wait and don't be tempted to use your lunch hour to do the chores!
Many people enjoy social media and it can be tempting to log on for 'just a minute' to check for updates. Ensure that your favourite websites aren't open during the day and if you receive updates to your personal email account, disable them during working hours. Dealing with distractions is about minimising distractions in the first place.
Update your online office diary every day and ensure that your colleagues have access to it. You and your co-workers may all be working from home but it's important that you all know when you're unavailable due to conference calls.
Connect with your manager and colleagues during the day – even a quick 'hello' can help you to feel a part of office life. If you have the IT systems in place, you and your team might also choose to have face-to-face contact via video conferencing.
When you finish for the day, shut down your workspace for the night. Get out for a walk (heeding current public health precautions), virtually catch up with friends and family, or simply relax. Working from home doesn't mean that you don't have a personal life.
Switching on, switching off
Anyone who is working from home, whether full-time or part-time, is likely to be experiencing a sense of fatigue due to an increased number of video conferences, a lack of social contact, and an inability to distinguish between home and work life.
These days, the question for many of us is, 'Am I working from home, or am I living from work?'
Some of the more commonly experienced challenges of working from home include:
1) Video conference fatigue.
If you're going from meeting to meeting or call to call, without so much as a ten-minute break, you could be setting yourself up for psychological and physical burnout.
Why not try:
Limiting as many meetings as possible to 45 minutes. With proper planning and an agenda, anything that can be achieved in an hour can be achieved in less time. But don't waste that new-found time: take a moment to stand up, walk around, hydrate, speak to a loved one, or visit with your pet. It takes time and discipline to do things differently but taking steps now to improve your wellbeing is worth it in the long run.
2) Feeling that we need to be available to colleagues at all times.
You have the right to take time out during your day for breaks and lunch. If it's your habit to 'be available on tap', start slow.
Why not try:
Closing your email and shutting off your phone when you're taking a break.
Letting colleagues know when you'll be taking time out during the day (this could mean that you diarise when you're unavailable at lunch or breaks to ensure that the time is protected).
Not answering emails and calls out of hours. An out of office notification will make it clear what your boundaries are.
3) Regularly starting work early or working late.
There's nothing wrong with putting in extra hours when you need to but it's a slippery slope. Not only will you feel guilty if you miss a day, but your colleagues and stakeholders may be disappointed if you suddenly change your schedule.
Why not try:
Asking yourself the reason why you're finding it difficult to work within your contracted hours? Is your workload unmanageable due to the changes that COVID-19 has brought to your department? Is your team short-staffed which in turn has affected your ability to get your work done during the average working day? If so, speak with your line manager and explain what you need in order to maintain a healthy work life balance. Your manager won't know that you're struggling unless you tell them and it's their role to ensure that you have all that you need to be able to do your job effectively.
Asking yourself if you're overworking because you're avoiding difficult issues in your home life such as relationship problems, or problems with money. Work can act as a diversion from difficult feelings and situations, but ultimately, it's just a sticking plaster, If you can isolate the reason for overworking, you can start to map out solutions. The Retail Trust can be contacted 24/7 on 0808 801 0808 if you'd like to explore things with a counsellor in confidence.
4) A lack of face-to-face interaction with colleagues.
Many of us miss meeting up with colleagues at work, even if we don't know them well. A chat at the coffee machine or saying hello to someone in the corridor on the way to a meeting can break up the day and give us a sense of connection. If you're missing the physical presence of your colleagues, you're not alone.
Why not try:
Asking your colleagues if they're feeling the same way. You might assume that you're the only one but chances are, your team is feeling similarly. Get creative and swap ideas on how you can engage with each other during the day. Some teams are using group Whatsapp or email to stay in touch, while others are setting aside a few minutes in the day to connect on video for a social catch-up.
Never missing an opportunity to leave your house at least once during the day. A hello to someone at your local shop can help you to reconnect to the outside world, even if it's just for a few minutes.
5) A lack of commute.
Perhaps you used to use your commute as a chance to catch up on news, read a book, or listen to music which no doubt helped you to feel ready to tackle the day when you walked into the office. The reality is that for many of us, we now find ourselves going from our bedroom to our desk with little to no time to prepare for the day ahead.
Why not try:
Setting a timer for the rough amount of time it took your commute pre-COVID. Whether it used to be 20 minutes or an hour, use that time to eat a good breakfast, enjoy a hot drink, read a book, or chat to your family. Head off to work when the timer ends.
At the end of the day, make sure that you take some time to decompress from work. Go for a walk, chat to a friend outside of work, have a shower, check out social media – anything that will help you to draw a line under the day.