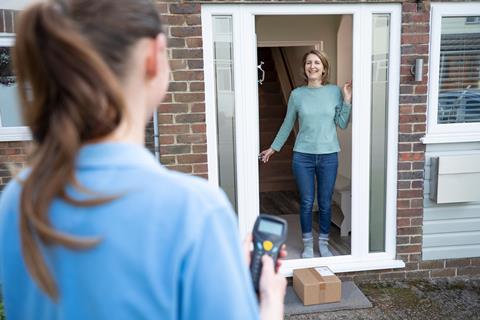 What is personal safety all about?
Whereas traditional health and safety focuses on reducing the risk of trips, falls and chemical hazards, personal safety looks at the prevalence of harassment, aggression, and violence in the workplace, at home or out in public, which may be perpetrated by colleagues, clients, or general members of the public.
The Suzy Lamplugh Trust's definition of personal safety is:
'An individual's ability to go about their everyday life, free from the threat or fear of psychological, emotional, or physical harm from others.'
Personal safety in work
Lone working:
If you are a lone worker, it is important that both you and your employer take appropriate actions to ensure your safety and minimise the risk that your personal safety will be compromised.
Customer facing roles:
When working instore it is important that you are aware of the steps you can take to ensure your personal safety, these include:
Ensuring you have a means of communicating with others if an incident occurs such as a covert panic button. 
Some form of emergency alarm system should be in place which will enable you to summon assistance if necessary. Is it tested? Do people know how to respond? 
Making sure that any cash is kept out of sight and valuable stock items are appropriately secured or tagged in accordance with your company policies and procedures.
Lone working out and about:
Give some thought before you arrive at your destination as to what exit strategies you could use if you felt uncomfortable or threatened. 
Conduct your own risk assessment on the door step before you enter unknown places. If you feel at all uncomfortable or unsure, make an excuse and leave. Trust your instincts. 
Be mindful of the fact that if you are entering someone else's territory, your presence there may be unwanted and/or pose a threat. 
As you enter an unknown location, make a note of how the door opens so that you can leave quickly, if necessary. 
Give the client an idea of how long the meeting will take and try to adhere to this. 
It is important that a tracing system is in place that enables your employer or colleagues to know where you are and who you are with at all times. 
Risk assessments should be carried out by your employer to identify any risks related to the people, environment or tasks involved in your job. 
You also need to be able to make quick risk assessments yourself, which can help you decide how safe a situation is and what action you should take to avoid danger. 
Plan additional routes or alternatives to get there and come back home.
Personal safety at home
We all want to feel safe and secure, especially in and around our own homes. Whether we live alone or with a partner, friends or family, keeping safe is something we can all prioritise but sometimes take for granted. 
Inside your home:
Try and look at your home through the eyes of a burglar. What can you see that would encourage or discourage someone from breaking in? Remember, half of all burglaries happen on the spur of the moment through unlocked doors or windows. 
Safety lights that are triggered by movement can be useful burglar deterrents. 
Try not to leave keys in a place where they can be seen from outside your home. 
Avoid attaching your name or address to keys. If they were lost or stolen, they could make a burglar's job very easy.
Working from home:
Managing your personal safety is still important when working remotely:
Try not to advertise that you work from home to prospective clients. 
Consider setting up a buddy system with someone so they know your plans for the day.
Think about asking your 'buddy' to call you ten minutes into any meeting with a new client to check that you are ok and feel comfortable with them. Have a predetermined code word ready in case you want to summon help. 
If clients have to come to your house, use rooms that do not disclose personal information about you. 
Callers at the door:
Intercom systems, spy holes, door chains and outside lighting can all help to safely identify callers. If you have them, make sure you use them. 
If a caller claims to be representing a company or organisation, ask for ID. 
If you are uncertain about the ID, phone the organisation to check the caller is genuine. Use the telephone number given in the phone book or on your utility bill, rather than the one on the identity card. 
Sometimes a bogus caller will try and distract you while an accomplice robs you, often by entering through a back door. Try and make sure other entrances into your home are locked when you answer the door. 
Answering the phone:
Try not to answer the phone with your address or telephone number. 
If the caller is not known to you, then avoid answering questions about yourself, no matter how innocent they sound.
If you have an answer machine, consider carefully before including your name or number in the message.
The message should avoid telling people that you are out or away. Try and give the impression that you are only temporarily unable to answer.
If you are listed in any directories, you might want to give your initials and surname rather than your full name. 
Dealing with malicious or nuisance calls:
Try to keep calm and hang up without responding.
Make a note of the time and nature of calls and, if the problem persists or you are worried, inform the police and your telephone provider.
If you suspect an intruder:
If you are in your home and think there is an intruder, call the police – don't go and investigate by yourself. 
If you come home and suspect an intruder has been inside, don't enter the property. Use a mobile or a neighbour's phone to call the police. 
Be a good neighbour. If you see anything suspicious, contact the police. 
Going away:
Close all windows and doors whenever you leave your home. 
Consider using a timer switch within your home to switch on some lights and perhaps a radio while you are away. 
If you are going out at night, you might want to draw the curtains and turn a light on so it looks like someone is at home. 
If you are going away on holiday, try not to tell too many people or to make your departure too obvious such as packing your car in front of your house, or announcing plans on social media sites. 
Remember to cancel milk and papers. If they sit on your doorstep they can indicate to everyone passing that you are away. 
Outside your home:
Watch out for people acting suspiciously. If you think someone is following you home or hanging around near your front door then make for a place where there are other people you can ask for help. 
Try and have your keys ready when you approach your home, so you don't have to fumble in bags or pockets for them on your doorstep. Never use these as a means of self-defence if approached by someone. 
Selling your home:
Selling your property is a stressful business and there's a lot to think about but it's important that you also consider your personal safety. The selling process can involve a number of complete strangers looking around your home and this is not without risk. However, by taking the following precautions you can improve your safety. 
If you are selling your property through an estate agent, confirm that they will check all potential viewers' identities. Make it clear to them that you do not want anyone viewing your property whose identity has not been checked. 
Ask your estate agent for all viewers to be accompanied by someone from their office. 
If you are selling the property yourself, get as much information as possible from the potential buyer before arranging a viewing and make sure you give that information to a friend or relative before the buyer arrives. 
Whenever possible try to avoid being alone in the property when conducting viewings. If you're single or your partner is unable to be there, ask a friend or family member to be with you. 
Always carry out an identity check. Ask to see a form of identity before you meet them. 
Always check who will be coming to the viewing. If they say they will be alone and more people turn up, do not let them into the property. Make an excuse – one which implies there are other people in the house. If they arrange to come another time, make sure that someone is with you for the viewing. 
If you do have to carry out a viewing alone, then give the viewer the impression that a friend or partner will be coming round to the property shortly. You should also consider checking the viewer in. You can do this by making a call to a friend or relative as soon as they arrive saying – "Mr X has just arrived for the viewing. We should be finished in X time and I'll call you back then." The viewer then knows they have been 'registered' as having arrived and that someone is watching out for you. 
You can also arrange a code word with your contact so that if any of the viewers make you feel uncomfortable for any reason, you can say the code word on the phone, which will warn your friend that you feel unsafe but the viewer will have no idea you have done this. 
If your friend hears the code word, they should either make their way round – or send someone – to your property as soon as possible. 
If you feel threatened or uneasy at any point, you should trust your instincts and act immediately. Make an excuse that you need to get something from your car and get out of the house. You could then go to a trusted neighbour and ask them to return to the house with you until the viewer leaves. By leaving the viewer in your property alone, you may put your valuables at risk but that's better than putting yourself at risk. 
When conducting the viewing, stay alert. Be friendly but professional and avoid giving out too much personal information. 
If the potential viewer comes back without an appointment, do not feel you have to let them into the property just because you have met them once. Instead, politely make an excuse not to let them in, preferably one that suggests there is someone else in the property, and ask them to call and make an appointment for another time. 
Further information: