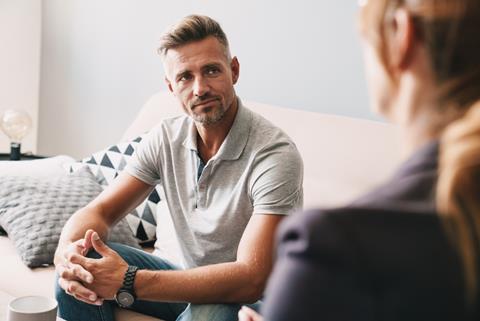 Knowing what to say to someone who is suicidal can be difficult but we've made it easier with this short video. In this scenario, Mark is speaking to Simone, who although distressed isn't forthcoming about how she's really feeling. But as Mark demonstrates, there are ways to help someone share their feelings in a safe and supportive way.
In the event that you're feeling vulnerable at the moment, you might want to revisit this content at a time when you don't feel distressed.
The information and self-help support provided is not a substitute for seeking medical assistance and advice if required. If you are having thoughts of suicide, please seek professional assistance urgently. You can contact the emergency services on 999 if you feel unable to keep yourself safe, and your local A&E will also be able to provide you with help.
The Samaritans is also available 24 hours a day, seven days a week on 116 123.
Supporter: Mark
Employee: Simone
Mark: Thanks for sharing your difficulties with me, Simone. I'm glad that you felt that you could talk to me.
Simone: Okay.
Mark: It sounds like you've got a lot going on right now.
Simone: Yeah, it's been terrible lately. It's been one thing after the other. I'm at the point where I don't really care if I don't wake up in the morning.
Mark: Can you tell me a bit more about not wanting to wake up?
Simone: It's a figure of speech. It doesn't mean anything. I'm just saying that I'm tired of everything going wrong in my life. At this rate, nothing will ever get better.
Mark: Have you told anyone else other than me about how you're feeling?
Simone: What's the point? Everyone already thinks that I'm a failure so why would I highlight it?
Mark: I don't think that you're a failure. There's so much that you do to make the world a better place.
Simone: You don't know me obviously!
Mark: You and I haven't known each other for that long, but I do know that you're very well-liked and respected here.
Simone: I don't feel like it.
Mark: Yeah, I hear you. I think human beings can be so hard on ourselves and we often don't see the good in us that others do. You mentioned earlier that things have been difficult for the last few months. Does your GP know how you're feeling?
Simone: No. I don't see the point. She can't solve my relationship issues, or deal with my debts or all of the other stuff that's happening right now. Look, I'm fine. I'm just a bit fed up.
Mark: GPs speak to people every day who are struggling for lots of different reasons. It's up to you of course, but letting your GP know that you're having a tough time right now might be worth considering at some point and I can also certainly suggest some options for people who can help you to look at your debts and make sense of the next steps. You mentioned that you sometimes feel like not wanting to wake up in the mornings. Is this something you felt today?
Simone: It's every morning.
Mark: I know that you said that you were using a figure of speech earlier, but may I ask if you ever feel suicidal?
Simone: Sometimes, yeah.
Mark: Do you have a plan? Like when or how you might end your life?
Simone: Not how but when. My daughter is getting married in three months' time so I feel that if things are still as bad as they are right now, I'll seriously consider leaving.
Mark: Leaving the world?
Simone: Yes. But I wouldn't leave before she got married.
Mark: Your daughter's wedding sounds like an excellent reason to stay. Would you consider speaking to someone who can talk to you about how you're feeling such as the Samaritans? All calls are confidential, and they're available 24 hours a day. I can give you the number so that you have it to hand if you start to feel overwhelmed. You can also text them and email if you prefer.
Simone: I'm not sure what I'd say.
Mark: You've done a brilliant job just now telling me how you're feeling. They speak to people going through all sorts of things every day, some of whom aren't able to articulate how they're feeling or why. Perhaps you could share the same information with them as you did with me?
Simone: Do you have their number? I probably won't call them but just in case…
[Mark looks up the number on his phone and writes it down for Simone]
Mark: Have you ever felt this low before?
Simone: No. never. This is new for me and not like me at all! I feel so weak.
Mark: There's nothing weak about feeling low. Most people feel overwhelmed from time to time when they're experiencing difficult times. Have you ever felt overwhelmed before now?
Simone: Yes, many times. But never like this.
Mark: What are some things that you've found have helped you in the past when you've felt overwhelmed and stressed?
Simone: My daughter and I are very close. I always feel better for just spending time with her. But she doesn't know how bad things are for me and I'm not going to tell her.
Mark: You don't have to tell anyone you don't want to. It can be really helpful to talk to someone you don't know such as the Samaritans or your GP. They can offer a different viewpoint. So you're really close to your daughter. What else helps lift your mood?
Simone: I used to do a lot of yoga because it helped me to calm me down but lately it's not working for me.
Mark: I think that what helps us can change over time. Would it be helpful to reflect on other things that have helped you in the past that you've not done for a while?
Simone: It can't hurt. Do you have any suggestions?
Mark: I wonder if you might find the Retail Trust wellbeing site helpful. They've got lots of great articles and videos including ideas for self-care such as pilates, visualisation, and the like. Shall I show you how to log on?
Simone: Yes please.
Mark: I'll be happy to do that. And while it's up to you and your choice, if you do want to speak to the Samaritans or your GP, you're very welcome to use my office and make a call in privacy for as long as you need. Let's have a look at the Trust's wellbeing content.
Even though Mark isn't a specialist in suicide prevention, he approached the conversation with Simone in an empathetic and non-judgemental way. Mark also recognised that patience and listening go a long way to understanding how best to help someone.