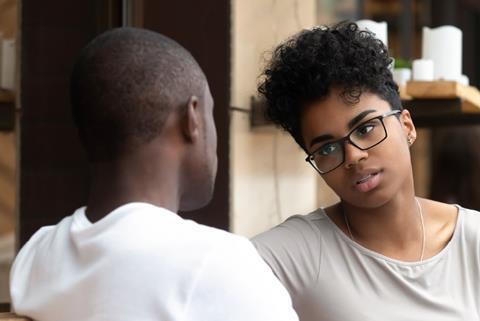 Knowing what to say to someone who is suicidal can be difficult but we've made it easier for you with this short video. In this scenario, Zara is speaking to Rafiq who is struggling with thoughts of ending his life and helps him to see that there are other options.
In the event that you're feeling vulnerable at the moment, you might want to revisit this content at a time when you don't feel distressed.
The information and self-help support provided is not a substitute for seeking medical assistance and advice if required. If you are having thoughts of suicide, please seek professional assistance urgently. You can contact the emergency services on 999 if you feel unable to keep yourself safe, and your local A&E will also be able to provide you with help.
The Samaritans is also available 24 hours a day, seven days a week on 116 123.
Supporter: Zara
Employee: Rafiq
Zara: It sounds like you've been through a lot recently, Rafiq.
Rafiq: Yeah, it's been really tough. I'm at the point now where I can't see the point of going on because everything just keeps getting worse.
Zara: You can't see the point of going on.
Rafiq: If one more thing happens, I'm not sure how I'll cope. Sometimes I think that it'd be easier to just put a stop to everything.
Zara: It sounds like things have been building up for a while. Have you been thinking about ending your life?
Rafiq: Sometimes, yes. It'd be a relief to not have to deal with everything.
Zara: Do you feel suicidal now?
Rafiq: Not right now but this morning I did. It took everything I had in me to get to work.
Zara: I'm so glad that you're here. Have you told anyone else how you're feeling?
Rafiq: I told my mum last week that I don't know how much longer I can go on but she got really upset so I just left it. And I don't want to bother my friends – they have their own problems and anyway, I don't feel like dying all of the time. I can have a good day here and there when I feel a bit better.
Zara: What does a good day look like? What's happening when you're feeling better?
Rafiq: I can find a reason to hold on. For example, yesterday was an okay day for me. I met up with a friend and we played some darts and had a good chat. He's going through some things right now with his wife and I felt that I was able to help him. That made me feel better, like I had a role in someone's life.
Zara: Yes, it's really important to feel like we have a purpose and you certainly do as someone who obviously cares about his friends and likes to help people. Does your GP know how you're feeling about things?
Rafiq: No. I don't know how he'd be able to help. I don't want to be forced to take tablets.
Zara: GPs speak to people every day who are struggling for lots of different reasons. It's up to you of course, but letting your GP know that you're having a tough time right now might be worth considering at some point? You mentioned that you sometimes feel like dying. May I ask if you have a plan?
Rafiq: What do you mean?
Zara: Well, have you made any plans such as when or how you might take your life?
Rafiq: Sometimes I think about how but not when.
Zara: If you think that seeing your GP isn't the best option for you, would you consider speaking to someone who can talk to you such as the Samaritans? All calls are confidential, and they're available 24 hours a day. I can give you the number so that you have it to hand if you start to feel overwhelmed. You can also text them and email if you prefer.
Rafiq: [no response – looks slightly uncomfortable]
Zara: Have you ever been through a time like this before when you've felt hopeless?
Rafiq: Yes. When I was in my late 20s, I went through a really difficult breakup. I thought about suicide for a few months.
Zara: What helped you to get through that time?
Rafiq: I found speaking to my cousin helpful. She was a very supportive friend to me. I also used to go swimming every morning which I found lifted my mood.
Zara: Those are great coping strategies. Have you thought about contacting your cousin?
Rafiq: I would do but I know that she's having a rough time at the moment. I don't want to burden her.
Zara: You mentioned that you helped your friend out the other day and it made you feel better. Might she also feel good if she has the chance to support you?
Rafiq: I guess so, actually.
Zara: Could be a good idea to give her a call? It sounds like you have some lovely people in your life who care about you. I care about you. I'm really glad that you've been able to share this with me. Thank you.
Rafiq: Did you say that the Samaritans are available anytime?
Zara: Yes. They're always available to speak. Shall I get the number so you at least have it on you if you need it.
Rafiq: Yes please.
[Zara looks up the number on her phone and writes it down for Rafiq]
Zara: What else can you do to take good care of yourself right now?
Rafiq: I am thinking about taking a walk into the hills this weekend with my neighbour. He's a good bloke – I do find that exercise helps my mood to be fair, and a bit of banter is a good distraction.
Zara: That sounds great! I also wonder if writing a few things down that you enjoy could be of benefit? A 'feel good' list so when things get really rough again, you have a reminder of what makes you feel better. I'd be happy to sit with you and listen to your ideas, and you could add the Samaritans number to the list. Almost like a toolkit of sorts.
Rafiq: I think that that would be helpful for me, yes. And I can include my cousin's phone number on the list too.
Even though Zara isn't a specialist in suicide prevention, she approached the conversation with Rafiq in an empathetic and non-judgemental way. Zara also understood that asking someone directly about feeling suicidal is good practice and nothing to fear.