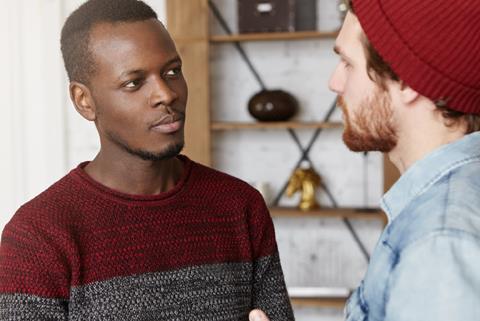 It can be upsetting and potentially triggering to read about suicide. In the event that you're feeling vulnerable at the moment, you might want to consider reading this content at a time when you don't feel distressed.
The information and self-help support provided in this series is not a substitute for seeking medical assistance and advice if required. If you are having thoughts of suicide, please seek professional assistance urgently. You can contact the emergency services on 999 if you feel unable to keep yourself safe, and your local A&E will also be able to provide you with help.
Alternatively, the Samaritans are also available 24 hours a day, seven days a week on 116 123.
Suicide was decriminalised in England and Wales in 1961, and in Northern Ireland in 1966. The Republic of Ireland saw the decriminalisation of suicide in 1993, while suicide has never been a criminal act under Scottish Law.
And yet, the term 'commit suicide' remains in our daily vocabulary despite it no longer being a crime amongst our nations. The connotation behind the use of 'commit' is that someone has committed a crime or a sin. Granted, some people do feel that suicide is against their religion's tenets, but when supporting someone who is suicidal, it's important to use appropriate and inclusive language. Remember words have the power to hurt or heal.
The drive to change the common language used to describe suicide began in the bereaved by suicide community as well as amongst people who had survived a suicide attempt. Just as the language we use when referring to people from LGBTQIA+ communities, ethnic minorities, and people with disabilities has changed over the years, the language is changing around suicide to become more inclusive and less derogatory.
"When someone refers to me as once having 'tried to commit suicide', I feel so ashamed! Being in huge emotional pain is not a crime and yet I've been made to feel like an awful person because I made an attempt on my life."
- Jeremy
"A doctor once referred to my 'failed suicide attempts'. I hear that term a lot but it upsets me every time it's used. I also feel upset when people talk about a 'successful suicide'. I mean, if someone has a heart attack and dies, does that mean that they had a 'successful heart attack'?"
- Maureen
"I've felt suicidal three times in my life, and every time I've been referred to by friends and once, even by a colleague, as an attention-seeker. I don't know why some people equate being in massive mental pain with seeking attention. If someone was in agony from cancer and was crying out for pain relief, the last thing you'd call them is an attention-seeker. When I've felt like ending my life, I've been desperately trying to stop the emotional pain. I need kindness, not judgement."
- Angela
You can help people who are feeling suicidal to feel less judged – and therefore more likely to share their story with you – by considering the words you use and how they can affect them.
Commonly used
Instead, consider using

Committed suicide

Died by suicide

Took his or her own life

Killed himself or herself

Died by suicide

Took his or her own life

Unsuccessful suicide attempt

Attempted suicide

Failed suicide attempt

Attempted suicide

Successful suicide

Died by suicide

Attention-seeking

Connection-seeking

Validation-seeking

Are you thinking of committing suicide?

Are you thinking about suicide?

Are you considering suicide?

Are you thinking of killing yourself?

Are you thinking about suicide?

Are you considering suicide?
Next article: Recognising the signs that someone may be suicidal